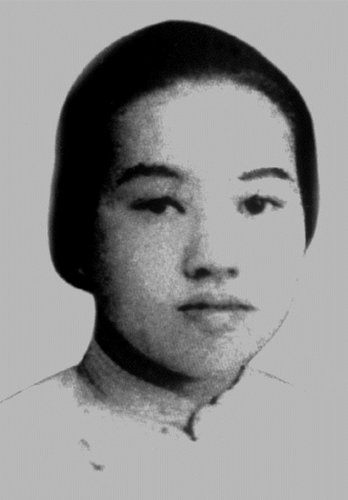 Miao Boying [People's Daily]
Miao Boying (1899-1929) was a revolutionary heroine and the first female member of the Communist Party of China (CPC).
Miao dedicated herself to struggles against imperialism through her whole life, and it was a great regret that she finally died of an illness rather than on the battlefield.
Suspending Study to Find an Anti-imperialist Road
Miao grew up in a family of intellectuals in Changsha, capital of central China's Hunan Province. In July 1919, she was admitted to Beijing Women's Normal College (BWNC), now Beijing Normal University, with the highest scores of her peers.
After reaching Beijing, she found that long hair was considered as being "feudal" by girls and women allied to the revolution, so she cut it short.
Later, she became acquainted with He Mengxiong (1898-1931), then a student of Peking University and also a native of Hunan. Since then, she often went there and attended local classes and lectures.
To promote Chinese interests, Miao suspended her studies at the BWNC and took part in the Beijing Work-Study Mutual Aid Team which was jointly initiated by Li Dazhao (1889-1927), one of the country's earliest Marxists and a main founder of the CPC, in search of an ideal model of new society, life and education.
Miao, together with over 10 other female students, opened a laundry but received little work.
In September 1920, faced with various problems, the mutual aid team was dissolved, leaving Miao and other activists confused where the anti-imperialist road was to be found.
Accepting the Marxism Ideas and Becoming a Party Member
In March 1920, under Li's advocacy, a society for studying Marxism was founded by 19 Beijing students including He Mengxiong and Deng Zhongxia (1894-1933), a CPC member and later leader of the modern Chinese workers' movement. Introduced by He, Miao also joined the society.
These progressive students often gathered at a library in Beijing, immersing themselves into the study of classical Marxism-Leninism works and books related to the October Revolution.
In addition, they also translated and printed some chapters from The Communist Manifesto and Capital. Miao often took progressive books back to the BWNC, passing among her fellow students in secret.
Under Li's guidance, she abandoned her fantasy about saving the nation through the work-study mutualism. She saw that the road of reformism would not work in China and turned to Marxism, becoming a progressive student with initial communist ideas.
In November 1920 when the Communist Youth League (CYL) was established in Beijing, she became the first female CYL member in the city.
Later that month, members supporting anarchism withdrew from the Beijing Communist Group that was set up for only one month.
To enrich the organization's strength, Li decided to absorb five members from local CYL. At the age of 21, Miao became the first woman member of the CPC.
Devoting Herself to Revolution
In 1921, Miao and He, two CPC pioneers got married. Since then, their home became an underground contact station for Party organizations.
CPC members often held meetings and activities at their home. Chen Duxiu (1879-1942), who co-founded the CPC with Li, once stayed at their house when passing by Beijing on his way to Moscow to attend the 4th Congress of the Communist International in 1922.
To protect her fellow Party members, Miao sewed their secret paper in the lining of their clothes, helping them reach the Soviets safely.
In February 1923, Beijing-Hankou Railway Workers' Strike was repressed by the Beiyang government, the government of the Republic of China (1912-1928).
Being in charge of the Women's Department of China Labor Portfolio Secretary Ministry, an organization set up by the CPC to lead workers' movements, she edited many publication items such as The Bloodshed of Beijing-Hankou Railway Workers.
Meanwhile, she also went to rescue wounded workers in Changxindian, a township in Beijing, and other locations, taking timely relief materials to their homes.
In May 1924, a traitor informed the Beiyang government against Miao, so she transferred back to her hometown Hunan. There she was hired as president of a local primary school and continued to work secretly for the Party.
Sacrificing Her Life
In the autumn of 1927, He was named a member of CPC Jiangsu Committee in east China. Miao went to the neighboring city Shanghai with his husband and began to serve as director of the women's committee in the city's Hudong District.
Under the pseudo of Miao Muqun, she also taught physics at Huaxia High School as a cover for her Party work.
At that time, CPC members in Shanghai came under severe political repression by the Beiyang government. Whilst carrying out Party work in all her might, she was ready to sacrifice her life for revolution.
She told her fellow underground Party members: "If I didn't come back two nights in a row, you should transfer as quickly as you can to avoid unnecessary death."
During that period, she often left home before dawn and returned late at night.
In October 1929, due to long-term tiredness, she caught a bad cold and was sent to Paulun Hospital in Shanghai.
At her deathbed, the then 30-year-old revolutionary said to her husband: "I should have died for the causes of the Party. It's my regret that I'm unable to do that… You must keep fighting until you achieve the victory."
Three months later, her husband was killed by the Kuomintang at the age of 32.
Miao and her son [sina.com.cn]
(Source: Beijing Daily/Translated and edited by Women of China)