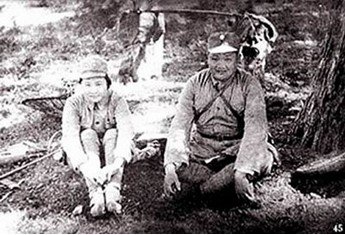 Yang Houzhen (L) and her ex-husband General Luo Binghui (R)[gxdlr.gov.cn]
Of the 30 female soldiers who took part in the historic Long March (1934-1936) with the Central Red Army, Yang Houzhen (1908-1977), the ex-wife of General Luo Binghui (1897-1946), was the only one with bound feet.
Despite her great setback, her condition never stopped her from joining the revolution and completing the historic trek, recall historians.
Luo, the commander of the 9th Corps of the Red Army, was originally a military officer of the ruling Kuomintang Government.
In November 1929, he led the Ji'an Uprising, in which he and his troops turned against the Kuomintang and switched their official support to the Communist Party of China (CPC).
Since then, Yang has followed her husband's footsteps and also started a revolutionary career herself.
After reaching the area of CPC control, she removed the cloth binding her feet and began to work as a nursing assistant at a local hospital. In 1931, she became a regular member of the CPC.
In October 1934, Yang alongside her fellow soldiers in a special troop tasked with caring for wounded soldiers, embarked on the Long March.
For a woman with heavily deformed, three-inch feet, the 12,500 kilometers trek was especially arduous.
Due to the extensive time spent traveling and poor conditions, her feet caused her great pain. Nevertheless, she insisted on walking instead of being carried by stretcher.
"I will march forward with my comrades even if it means climbing," she said.
One day during their journey, Yang and her fellow soldiers suffered a sudden attack by an enemy plane. A bomb exploded nearby.
Hit by shrapnel, she was injured all over her body. In addition, she stopped breathing.
At dusk, Kang Keqing (1911-1992), the wife of General Zhu De (1886-1976), led female soldiers to say goodbye to Yang's "remains".
At the time, Yang's eye suddenly moved. "Sister Yang is still alive. I saw her eyelid flickering. Fetch a doctor, quickly!" Kang cried out.
After receiving emergency medical attention, Yang's life was saved. Seriously injured, she remained in coma for many days and was confined to a stretcher in the following month.
(Source: Youth.cn/Translated and edited by Women of China)