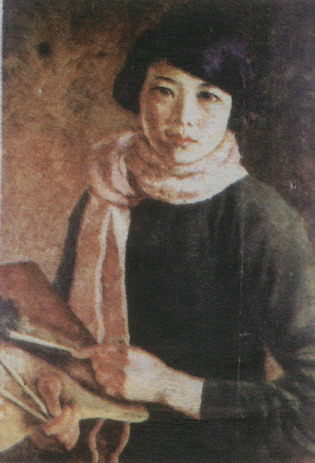 Portrait of Sun Duoci in Xu Beihong's painting [Women of China]
Sun Duoci was one of the first women artists to work in oils. She achieved acclaim for her works but also infamy for her relationship with celebrated painter Xu Beihong.
Teacher, Mentor, Lover
Sun Duoci, originally Sun Yunjun, was born in 1912, the first of four children to a scholarly family in Shouxian County of south central China's Anhui Province. Her father Sun Chuanyuan (1893-1985) was secretary to Sun Chuanfang, a northern warlord during the Republic of China period (1912-1949), and later a university professor. Sun's mother was the principal of a girls school. Sun thus had a solid academic background in the arts and literature.
After graduating from Anqing Girls School in the summer of 1930 at age 17, Sun applied to the Literature School of Nanjing University Literature College. She was not accepted, so instead became an auditing student at the university's Art Department. She studied painting under Xu Beihong, who immediately recognized her talent. Xu invited Sun to his home on several occasions to pose for a portrait. The two would often go for walks together, and it was soon clear to both that they had fallen in love. Xu was 35 years old and married with a son and a daughter. His relationship with Sun was an anathema to his wife Jiang Biwei.
In the summer of 1931, Sun Duoci entered the Art Department of Nanjing Central University and became Xu Beihong's student. Xu made no secret of his admiration for Sun's work, and their affair soon became common knowledge.
The special attention Xu gave Sun caused resentment among his other students. His frequent visits to see Sun at the Central University women's dormitory, where men were prohibited, fueled further gossip and scandal. Life soon became unbearable for the 19-year-old Sun. She eventually moved out of the college campus to share an apartment in Anqing with her mother.
In January 1933, Xu went abroad to Europe to exhibit his works while Sun continued her art studies. They kept in close touch the whole time.
Shortly after returning Xu, Sun and several others went to Huangshan (Yellow Mountain) and other scenic spots to sketch. Their separation had made Xu and Sun more demonstrably affectionate than usual, and word of their handholding and loving looks soon reached Jiang Biwei, Xu's wife. Her reaction was to tear up all the portraits of Sun she found in Xu's studio.
Jiang Biwei's rage and the rampant gossip throughout the student body made it impossible for Sun Duoci to finish her studies at the Nanjing University. She left before graduation to take up a teaching post at Anqing Girls School. After the Japanese invasion of China in 1937 Sun and her parents sought refuge in Changsha, and in April 1938 met Xu there. He later took Sun and her family to Guilin, capital of Guangxi Autonomous Region, where he found Sun a post in the Guangxi provincial government.
Although deeply in love with Sun, Xu had not been willing to divorce his wife. It was in 1938, while Sun and her parents were in Guilin, that Xu declared in a newspaper article he would cut ties with Jiang Biwei. Xu asked his friend Shen to visit Sun's father and ask on his behalf for his daughter's hand, but Professor Sun flew into a rage and threw Shen out of the house. Shortly after Sun's family packed up and left Guilin to settle in Lishui, Zhejiang Province. There Sun married Xu Shaodi, Education Minister of Zhejiang Province, and held teaching positions at the Zhejiang College of Art and Provisional Joint School.
Regrets
Xu Shaodi was also 20 to 30 years older than Sun, and her marriage to him was a loveless one. Xu Shaodi was the KMT official who called on the KMT Central Committee to arrest 'decadent literati' Lu Xun. The very public affair he had with the wife of famous Chinese poet and writer Yu Dafu indirectly caused the writer's death. Xu Shaodi had originally intended to marry Yu's wife after ending his own marriage, but the younger, more beautiful Sun Duoci caught his eye. When Xu Beihong and Jiang Biwei did not divorce and her parents opposed their relationship, all Sun could do was try to bury her love for Xu Beihong. She was 26 when she agreed to marry Xu Shaodi after the death of his wife. As he had been education minister before they married, Sun thought that he would at least be a learned man. But she soon realized Xu Shaodi was little more than an ignorant, woman-chasing party boss. In August 1939, Sun wrote to Xu Beihong telling him how she missed him, saying:" I regret failing to be courageous enough to marry you despite parental opposition, but I believe that in this life I will always see my Beihong again."
But Sun Duoci was brought up under the pragmatic tradition whereby a woman "married to a chicken, lived with a chicken; married to a dog lived as a dog." In 1948, she went to Taiwan with Xu Shaodi and taught at Taiwan College of Arts. She became dean in 1963. Although Sun despised Xu Shaodi she did not divorce him. The two lived together in bitter disharmony.
Sun escaped her life of pain, conflict and regret by traveling to the United States, where she stayed at the home of woman physicist and art lover Wu Jianxiong. Sun often also visited the oil painter Wang Shaoling at his home in New York. Just before going to the United States, Wang had gone to Xu Beihong's studio to say goodbye. At that time Xu was writing poetry, and Wang Shaoling asked for one of his poems as a memento. The one Xu gave Wang Shaoling, and to which he gave pride of place in his New York home, was written for Sun Duoci. It was a source of bittersweet emotions for Sun each time she read it.
Sun was in New York at an art workshop in September 1953 when she heard the news of the Xu Beihong's sudden death. She wore mourning for the next three years. Sun Duoci died of cancer in March 1975 in Los Angeles at the age of 64.
Artistic Talent
Sun was an acclaimed artist in her own right. The Zhonghua Book Company published her first book Sun Duoci Sketches in 1936. The same year her painting Stone Works was selected for the Second National Art Exhibition, and in November 1937 she held a private art exhibition in Anqing, Anhui Province. Sun also held exhibitions in 1948 at the Shanghai Cishu Building and in 1951 at a gallery on Zhongshan North Road in Tapei.
A versatile artist, Sun Duoci excelled in oil paintings, sketches and ink and wash works, and was also an accomplished calligrapher and writer.
Historian Li Zegang described Sun's exhibition as a 'palace of art,' praising her ink and wash paintings for the 'extraordinary spirit' they displayed and her oil paintings as 'excellent in both static and dynamic descriptions, with solemn and graceful dispositions'.
Sun pursued excellence in art throughout her life. She once said, "The sea of art is so wide that no one can see its boundary. But I am determined to reach it. Although along my way I may encounter fearful storms and the masts of my boat may break, I can at the same time enjoy gentle breezes, watch fish jump and sea birds fly. Dangers and difficulties cannot deter the ambition of a determined heart."
(Source: cultural-china.com)