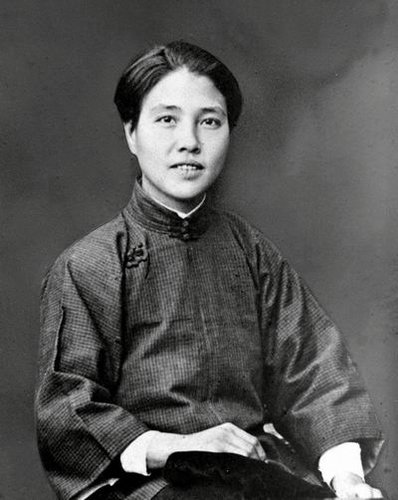 Xiang Jingyu is a well-known leader of China's women's movement during the early period of the Communist Party of China (CPC). [people.com.cn]
Xiang Jingyu, one of the earliest members of the Communist Party of China (CPC), is considered a pioneer of the Chinese women's movement.
After graduating from a normal school in Changsha, the capital of central China's Hunan Province in 1916, Xiang chose to return to her hometown. Later, she became the principal of a local school, hoping to help more deprived areas of China through education.
In 1919, along with Cai Chang, Xiang initiated a work-study project for Hunan women studying in France. She took part in the Xinmin Society, a left-wing youth club jointly launched by Mao Zedong and Cai Hesen. In the same year, Xiang went to France, together with Cai Hesen and Cai Chang, where she learned French and Marxism while working at a textile factory.
When Xiang was in France, she worked in daytime and studied French at night. Within a few months, she could read "The Communist Manifesto" and "The Origin of Family, Private Ownership and State", all significant documents in the communist movements, in French.
The ambitious woman came back to China in 1921. The next year, she joined the CPC in Shanghai. Shortly afterwards, she was elected the head of the Ministry of Women at the 2nd CPC National Congress. In addition, Xiang was also elected a member of the CPC Central Committee in its 3rd and 4th national congresses. Moreover, Xiang organized women workers in Shanghai Silk Factory, Gauze Factory, and Cigarette Factory to hold women's movement meetings and strikes while she was also responsible for writing papers and drafting documents on the women's movement.
In 1925, Xiang went to study at the Communist University of the Toilers of the East in Moscow, Russia. When she returned to China in 1927, she worked for the general labor union of Wuhan, Publicity Department of the CPC Hankou Municipal Committee, and CPC Hubei Provincial Committee. In March 30, 1928, Xiang was arrested due to a leak from a traitor. Despite this, she bravely fought against her enemies and revealed nothing in prison before she was killed at the age of 33.
In 1939, Mao Zedong highly praised Xiang's lifelong dedication to China's revolution during a ceremony for women's day. In the same year, Zhou Enlai said on the founding of Yan'an Women's University that Xiang was the first female member of the CPC Central Committee, as well as the first minister of the Ministry of Women.
(Source: Guangdong Women's Federation/Translated and edited by Women of China)