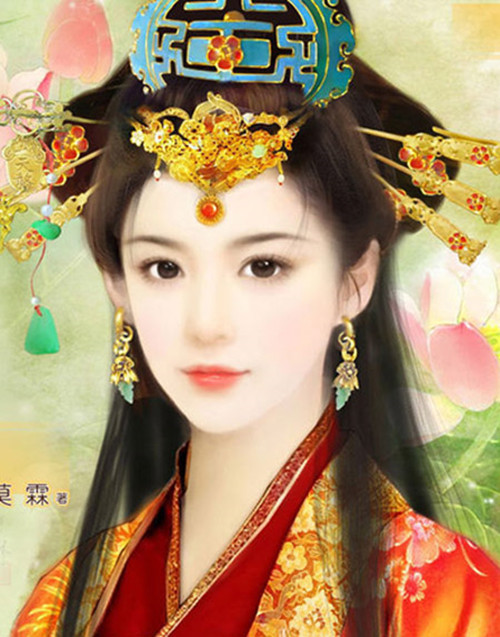 A modern portrait of the Empress Zhangsun (601-636) [Xinhua]
Empress Zhangsun (601-636), one of the most famous women in ancient Chinese history, was wife to Emperor Li Shimin (598-649) during his reign from 626-649. She assisted his father Li Yuan in the founding of the Tang dynasty (618-907), and later contributed to one of the most colorful and eventful stages in ancient Chinese history.
A Chinese proverb says that "a man can hardly be successful without the help of a good wife," and the story of Empress Zhangsun and Emperor Li Shimin is often held up as a shining example of a harmonious couple working together.
Lifetime
Empress Zhangsun was born to an aristocratic family, the daughter of a general in the former Sui Dynasty (581 – 618).
Her grandfather was the governor of Yangzhou, nearby the current area of east China's Jiangsu Province.
Her noble family provided Zhangsun with a decent living and good education throughout her childhood and into her later life.
Soon, she was introduced to Li Shimin for their future marriage. He was the son of the governor Li Yuan, the founding father of Tang Dynasty, who ruled Taiyuan at that time, nearby the current area of north China's Shanxi Province.
After Zhangsun married Li Shimin, the future emperor, who was talented in politics and military, encouraged his father Li Yuan to rebel against the Sui dynasty.
Li Shimin subsequently played a pivotal role in defeating several of the dynasty's fiercest opponents and solidifying his rule over China.
Later, Yi Yuan founded the Tang dynasty and Li Shimin became Prince Qin Wang, while his wife Zhangsun became the Princess Consort.
In 626, Li Shimin came to the throne after a series of military coups. Thereafter, Zhangsun was honored as the Empress Zhangsun.
During their marriage, the empress produced seven children – three princes and four princesses – among whom the successor of Emperor Li Shimin was their son Li Zhi (628 – 683), the third emperor of the Tang dynasty.
However, a decade after, in 636, Empress Zhangsun passed away at the age of 36. Her husband Emperor Li Shimin announced amnesty to the public and honored a grand royal funeral in memory of his beloved Empress.