Qin Liangyu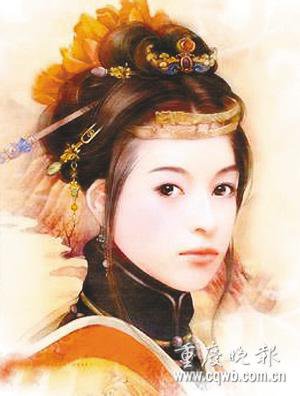 An imaginary picture of Qin Liangyu, a loyal heroine whose story features in the official history of the Ming Dynasty. [cnlnsq.com]
The Official History of the Ming Dynasty mentions Qin Liangyu, famous heroine of the late Ming Dynasty, describing her as brave, clever, and an excellent horsewoman and archer. She led a troop known as the 'white pole army'.
Qin was a native of Zhongzhou, Sichuan Province, also hometown of famous loyal military officials Ba Manzi of the Warring States Period and Yan Yan of the Three Kingdoms period. Qin practiced martial arts with her brothers at an early age and also became versed in military tactics. She was proficient in horse-riding and archery by the time she was 20. Courageous and clever, Qin was well known in her time as a gracious woman skilled in martial arts and military science. She married Sichuan government official Ma Qiancheng when she was 20.
Border skirmishes were rife during the late Ming Dynasty. Qin and her husband established a troop of local youths to protect the country, armed with poles of white basswood, each with a hook at one end and a loop at the other. This weapon was very useful in mountainous Sichuan. By hooking their poles through the loops of the soldiers in front of them, the soldiers were able to advance rapidly up mountainsides. The White Pole Army won many battles and became famous throughout the province.
Qin took over her husband Ma Qiancheng's position after his capture and death in prison. At this time the Nvzhen ethnic minority, which founded the Qing Dynasty, rose up and threatened the border. After a crushing defeat, the government deployed Qin Liangyu to fight the Qing invaders. Her brothers and son were among the many soldiers that died, but Qin continued to fight until her army had driven the enemy into retreat.
In the third year of the reign of Emperor Chongzhen, Qing armies once more encroached upon the border region. In answer to the Emperor's call, Qin Liangyu rode day and night and, without pause, immediately into battle. Qin thus helped Beijing out of danger. The Emperor Chongzhen rewarded Qin by presenting to her in the imperial court silks, mutton and wine. He also wrote four poems in praise of her.
Sichuanying hutong where Qin was stationed in Beijing [cul.sohu.com]
Qin Liangyu's army was stationed in Beijing's Sichuanying, now a hutong. A picture of Qin once hung in the Sichuan guild hall that stood there. The hall has since become a residence, and Qin's picture is safely housed in the Beijing Cultural Relics Bureau.