Tang Sai'er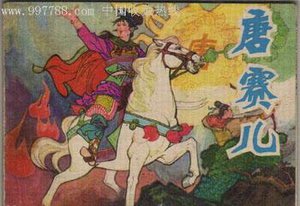 Tang Saier was a rebel leader of the early Ming Dynasty who protested the government's unfair treatment of the people. [7788js.com]
Tang Saier led a peasant uprising during the Ming Dynasty (1368-1644). She was motivated by desire to ease the suffering of the people under the rule of early Ming Emperor Cheng Zu, who imposed corvee labor on hundreds of thousands of peasants from Shandong Province. They were forced to carry out tasks such as moving the capital from Nanjing to Beijing, renovating palaces, transporting grains from south to north and excavating canals. Tang Saier, self-styled Godmother of the White Lotus Cult, led the masses in an uprising against what amounted to the slavery the emperor imposed on the rural masses.
After leading an uprising at the Xie Shi Peng stockade in Qingzhou, where Tang Sai'er and her followers killed all the local officials, more army units were established as more people became willing to join in the revolt. An army of around ten thousand raided counties such as Rizhao, Zhucheng and Shouguang, routing officials and destroying government offices and warehouses. After Tang Sai'er killed the emperor's envoy, the Ming Court dispatched an entire army to persuade her to surrender.
Tang Saier feigned submission but led a raid on the enemy that night when they were off-guard.
The furious Emperor Cheng Zu ordered Tang's capture at any price. Suspecting that she had taken refuge in a temple, he ordered the capture of all nuns. But Tang Saier escaped without trace.
A commemorative shrine and statue of Tang Sai'er in military uniform stand in her hometown today.
Please understand that womenofchina.cn,a non-profit, information-communication website, cannot reach every writer before using articles and images. For copyright issues, please contact us by emailing: website@womenofchina.cn. The articles published and opinions expressed on this website represent the opinions of writers and are not necessarily shared by womenofchina.cn.