Mu Guiying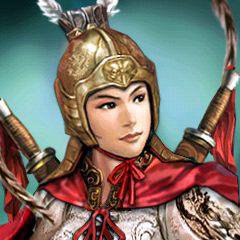 Mu Guiying, daughter-in-law of the Yang family during the Northern Song Dynasty. [5isanguo.com]
Mu Guiying is a character in the opera and novel Warriors of the Yang Family, which tells of the four Yang family generations that safeguarded the country during the Northern Song Dynasty (960-1127). Mu Guiying was the wife of respected official Yang Zongbao of the third generation that guarded the border. She had extraordinary martial arts skills.
There was during the reign of Emperor Song Ren Zong constant warfare on the border, and the western Xixia Empire had made inroads into the Central Plains area, threatening the Northern Song regime. Yang Zongbao was the remaining soldier in his clan, and met an untimely end after falling into a trap set by Pang, a scheming court official. Mu Guiying suppressed her sorrow at the loss of her husband and led all the other Yang widows in a war against the Xixia kingdom.
Mu Guiying in Command was originally a Yu Opera which Mei Lanfang adapted into a Peking Opera in 1959. He is shown in the title role as Mu in full costume. [china.com.cn]
But Mu and her army met their end at the Tiger and Wolf Canyon. She and two other women were killed by arrows and the others died making their way up the steep cliff to rescue Mu. Their remains were later buried there. Legend has it that the tears of Dowager She, head of the Yang family, at their tomb touched the spirit of the mountain, and that it wept tears of sympathy in the form of boulders that rolled down the cliff. The Yang family tomb can be seen at the so-called 'Rolling Tears Cliff'.
The Song Court rewarded Mu Guiying for her achievements in battle with the title Huntian Marquis.
Celia Cheung in the role of Mu Guiying in a movie produced in Erdos, Inner Mongolia. The story of this woman warrior and others of the Yang family, like that of Hua Mulan, is a popular theme of both movies and TV dramas. [ent.iqilu.com]
Please understand that womenofchina.cn,a non-profit, information-communication website, cannot reach every writer before using articles and images. For copyright issues, please contact us by emailing: website@womenofchina.cn. The articles published and opinions expressed on this website represent the opinions of writers and are not necessarily shared by womenofchina.cn.