Hua Mulan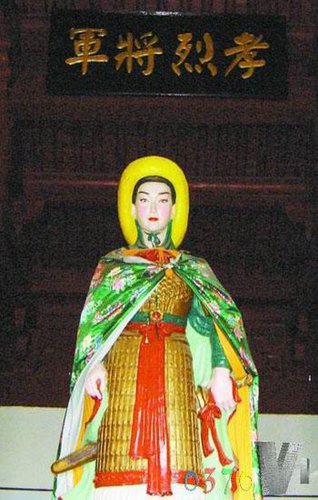 Statue of Hua Mulan [baidu.com]
Hua Mulan's story is known throughout China. Practiced in martial arts since childhood, Hua Mulan lived during the Northern Wei Dynasty (386-557). She disguised herself as a boy to save her ageing father from being conscripted to fight the northern nomads that threatened Northern Wei borders. She endured the hardships of war while in disguise, and her bravery in battle was a contributing factor to her army's victory. Hua Mulan is the most respected of historical Chinese heroines.
The animated Walt Disney feature, Mulan, of 1998 was a box office hit throughout the world.
The ancient literary tale Mulan Ci appears in Chinese school textbooks. Hua Mulan's story becomes artists' creative source for cultural productions of various sorts.
This heroine has been immortalized in the schools, railway stations and hotels named after her. There is also a Hua Mulan militia troop in Yucheng County, a Hua Mulan Martial Arts Association and a Hua Mulan troupe of drummers and dragon dancers in Shang Qiu in Henan Province. Obeisance is commonly made to the young heroine at grand temple fairs on her birthday, which is the eighth day of the fourth month on the Chinese lunar calendar.
2009 movie production in the feature of Hua Mulan, starring Chinese mainland stars Zhao Wei and Chen Kun. [movie.v.joy.cn]
Mulan Ci is the only existing literary account of Hua Mulan's story. Historians differ over her exact dates of birth and death. There are records of the existence of Mulan under different surnames, including Han Mulan, Wei Mulan and Ren Mulan. All portray her as a courageous warrior.
Please understand that womenofchina.cn,a non-profit, information-communication website, cannot reach every writer before using articles and images. For copyright issues, please contact us by emailing: website@womenofchina.cn. The articles published and opinions expressed on this website represent the opinions of writers and are not necessarily shared by womenofchina.cn.