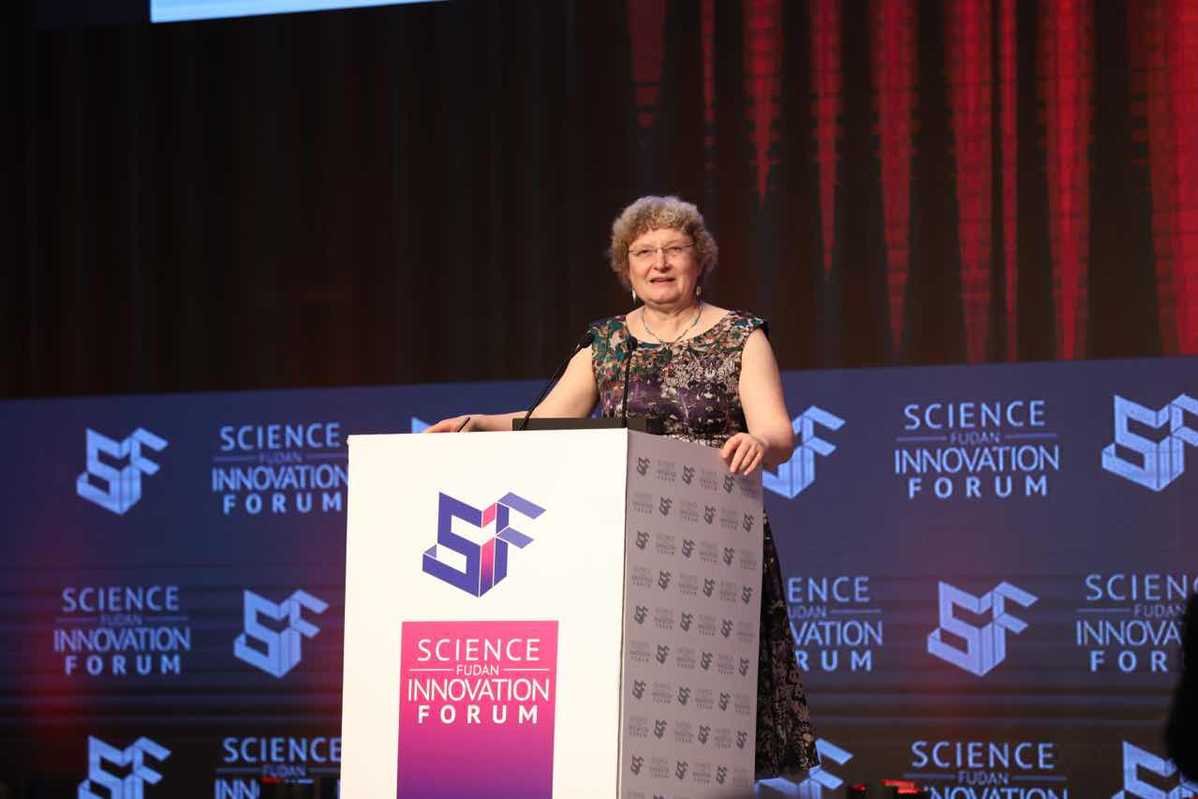 Belgian mathematician Ingrid Daubechies [China Daily]
Belgian mathematician Ingrid Daubechies, best known for her work with wavelets in image compression, said she plans to use her technique to restore the original appearance of old Chinese paintings.
Using her methods for analyzing images, her team is able to recapture the look of old paintings without physically touching them, Daubechies said in Shanghai on Sunday.
"Another way to apply our technique is to reveal a hidden painting underneath one painting without removing the one on top, which may also bring new insights into traditional Chinese painting," Daubechies said after receiving the Fudan-Zhongzhi Science Award.
She was awarded the prize for her outstanding contributions to the discovery and mathematical analysis of compactly supported wavelets used in image compression - for example, in JPEG 2000 for both lossless and lossy compression - and for her sophisticated image processing techniques, which have helped art historians and conservationists in the study and protection of art works.
Daubechies said her team has not yet explored cooperation with Chinese museums or art galleries but will be interested in pushing such projects forward.
"We'll also assess the needs of people in the field to generate new ideas of what our technology can do," said Daubechies, a professor of mathematics at Duke University in the United States.
She said her team has done a lot with the works of Vincent van Gogh. Among the most interesting discoveries - found through mathematical measurements - was a painting hidden beneath another of a peasant woman.
"It really interested the public, as Vincent van Gogh once revealed there was a painting underneath," she said, adding that the Dutch artist often reused his canvasses.
The science award was jointly created by Fudan University and Zhongzhi Enterprise Group, an asset-management entity headquartered in Beijing. It was the third time the annual award has been given.
According to the university, candidates for the award - which recognizes scientists around the world who have made distinguished achievements in the fields of mathematics, physics and biomedicine - are on the cutting-edge of science and technology.
Each year's winners share an award of 3 million yuan ($435,000).
Notably, James Allison of the US and Japan's Tasuku Honjo, who won the award in 2016 for their contributions to immunotherapy, received this year's Nobel Prize for medicine or physiology; and US scientists Barry Clark Barish, Rainer Weiss and Kip Stephen Thorne, who received the Fudan-Zhongzhi award last year for their contributions to the observation and research of gravitational waves, received the 2017 Nobel Prize for physics.
The award ceremony was held on Sunday during the Fudan Science and Innovation Forum, which focused on frontier topics in computing science, big data, molecular function and imaging, and innovation and entrepreneurship.
(Source: China Daily)