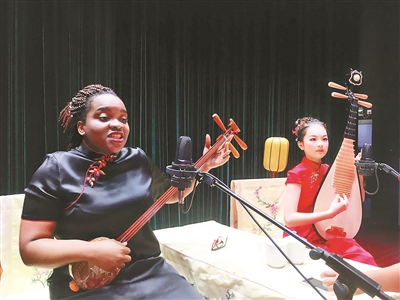 Nobelle performs Suzhou Pingtan with a Chinese girl. [Xinhua]
A young Cameroonian woman who studies in China impressed audiences by performing a traditional Chinese musical form Pingtan in Shanghai on May 19.
Nobelle, 21, moved to Asia in 2015 with her father and is currently a sophomore at the Department of Communication Engineering of the University of Shanghai for Science and Technology.
She said that she learned guitar and piano from her father, but she has never heard Suzhou Pingtan, before she arrived.
Pingtan is a form of storytelling and ballad singing in the Suzhou dialect. Flourishing in the nearby city of the same name, it also enjoys great popularity in neighboring east China's Zhejiang Province and Shanghai.
Nobelle said that she started to learn Chinese early on and was approached by Zhou Hong, a national-class actress, because of her singing performance at a Spring Festival show. Zhou introduced her to Suzhou Pingtan.
Nobelle said she had encountered many difficulties. "Mastering the instrument is the first difficulty I met. Moreover, Pingtan emphasizes playing and singing, and it is spoken in Suzhou dialect." Zhou said Nobelle's Mandarin is good, but it is not easy to learn to perform with the dialect. "She listened to my pronunciation and read my lips, to make her accent more authentic."
Nobelle also expressed her affection towards this unique form of performing and kept learning and practicing via Zhou's performance videos.

When asked about future plans, Nobelle said she would be fully prepared for a contest on May 28, and continue learning it no matter she won or lost, because this was already a hobby to her.
(Source: Women Voice/Translated and edited by Women of China)