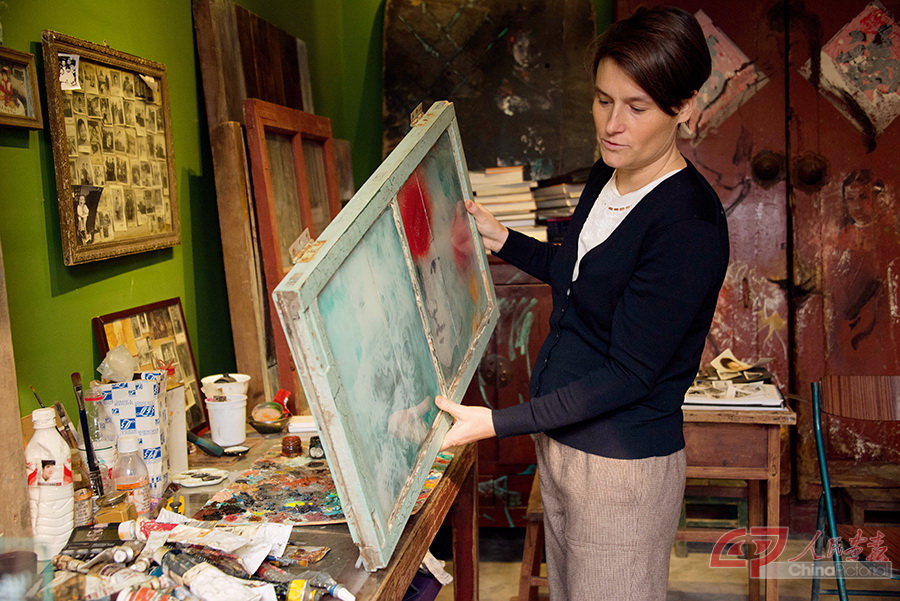 Capucine shows her old door panel. [China Pictorial]
If people living around the National Art Museum of China in Beijing have any useless old door panel, they will give it to Capucine, a French painter. In her eyes, the old door panels are the gate through which she talks with her art.
"My name is Capucine, Capucine Néouse. It's also the name of a kind of flower, so you can also call me Flower." In her workshop, in addition to paintbrushes and pigment, there are many old door panels, big and small, some with colorful window panes, some mottled with old paper adverts, filling a small room of about 20 square meters.
"I enjoy looking at these panels. Those textures and scratches on them make me think about their experiences. If it was a door, it may carry many connotative meanings of a family, or it may have witnessed many warm family stories. If it was a wooden panel, it may have been a tool used by a certain worker, hinting to tough outdoor working conditions and rough life. I examine these boards like a doctor, trying to hear and understand their stories."
Capucine shows special preference to waste building materials. She began to work as an architect in Paris after graduation in 2000. Feeling pitiful for all the waste building materials, she tried to create art works with them. However changes in her job and family made her give up the idea later.
In 2012, Capucine followed her husband to Beijing, living with him and their three children in a small alley to the west of Jiugulou Dajie (Old Drum Tower Street).
"It was Beijing who inspired me to try again creating something with abandoned building materials. The city develops fast, and many door panels, looking old and broken, deeply related with the city, have been left obsolete. You can see people carrying them on tricycles. I wonder where they come from and why they are sent to the dump. I want to do something with them. Maybe they can help me tell some of Beijing's stories."
Capucine opened her small workshop in the "Yishu 8" art park at the Huangchenggen Beijie, the site of the former Sino-French University. She bought old door panels at the price of 100 yuan each. She would clean them up, leaving old adverts still stuck to them, and then paint them according to their texture and shape.
"In fact, the story I present on the doors is just what the old doors told me. I just try to understand the stories by their scratches, materials, craftwork, age, and missing parts," Capucine says.
Every piece of Capucine's works contains Chinese faces and stories, such as a young student with a bob haircut, a girl with a plump face in a colorful cotton-padded jacket, a boy swallowing rice from a big bowl.
Her works describe people's daily life. "I have painted many family stories, considering they are people's common memories. Everyone has a family and their own memories. I have told these Chinese stories with my own experiences and my heart. Although I'm French, the themes of family and childhood will bring common feelings."
Those figures painted on the old doors are inspired by an album of original black and white pictures Capucine bought from a second-hand market. She has collected about a thousand such photos since 2012. "Every time, I only begin to paint on the panel after a lot of thought and consideration. It takes a lot of time to decide what to paint, but once it is decided, I paint fast."
Capucine has also created a work based on a black-and-white family photo of her friend. That friend was moved to tears when seeing Capucine's work. It touched Capucine deeply and made her more determined to create works to reflect changes of Chinese families.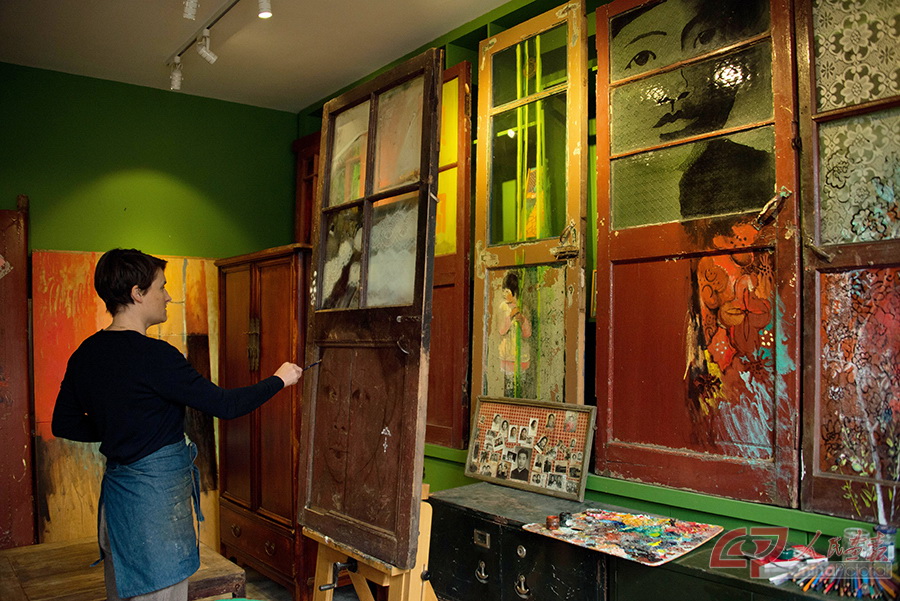 Capucine paints on the old door panels. [China Pictorial]
The painting tools of Capucine [China Pictorial]
The black-and-white family photos from Capucine's customers [China Pictorial]
(Source: Xinhua/ Translated and edited by Women of China)