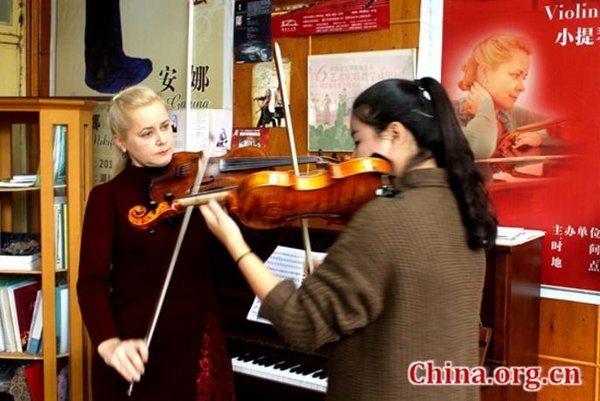 Anna plays the violin with one of her students during a class at the Hunan Institute of Science and Technology in Yueyang City, Hunan Province, on November 28. [China.org.cn/Mi Xingang]
Vladimir Ganin, a 49-year-old Russian oil painter, and his violinist wife Anna, have been committed to teaching at the Hunan Institute of Science and Technology in Yueyang City of central China's Hunan Province, for the past 15 years.
"I like palm trees, warm weather, the simple and quiet life in Yueyang," said Ganin delightedly. "The infrastructure at our institute is quite good for creative majors like fine art and music." Apart from teaching, Ganin spends time in art creation at his studio and holding exhibitions all across China.
Ten years of professional study of painting and drawing in Vladivostok, in Russia's Far East, provides a solid basis for Ganin's artistic career. He developed his own painting philosophy and method of expression by use of colors.
In recent years, Ganin has created works focused on humanity and presenting traditional Chinese concepts like feng shui, and yin and yang. Through a synthesis of figures, objects and places, he tries to provoke viewers to think about the secular world.
"Traditional Chinese elements can be used in contemporary arts, such as clothing fashions, modern design, and so on," observed Ganin, expressing his amazement at the brilliant Chinese culture. "I like Chinese art treasures like Terracotta Warriors and I employ Chinese painting techniques by using brushes and inks in my works on occasions."
Ganin lays more emphasis on heuristic teaching in imparting knowledge to students. "I want them not just to copy, but to think more about how to create works," he said.
His student, Zhang Xiaoying, an 18-year-old girl, said: "Ganin advocates free performance and encourages us to paint according to our will. There is no restriction, and we can use different styles and presentational methods."
As a teacher, Ganin believes he shouldered strong responsibilities when he saw the hunger for knowledge in students' eyes. "I must tell students which way is the best and guide them how to think and create with their minds."
His wife Anna, a violin teacher at the same institute, also stressed music sensibility and leads her students to grasp the feelings behind the music during classes.
Chen Lu, a junior student who has learnt violin from Anna for three years, said: "Anna taught us to follow our hearts and feel the music when playing the instrument." Zhang Kedian, also one of her junior students, said: "As the violin is a kind of Western instruments, Anna can give us more knowledge of the music itself and Western culture apart from playing techniques."
In 2004, Ganin was awarded the Friendship Award by the Chinese government for his efforts in art education in China. In 2015, Chinese President Xi Jinping met with Ganin and some 40 other Russian experts making contributions to China's development while in Moscow attending a series of events marking the 70th anniversary of Russia's victory in the Great Patriotic War.
Ganin still remains very excited when talking about the occasion. "The credit is not just for me but also for our institute," he said. Ganin also expressed his admiration towards President Xi Jinping by saying: "He delivered a speech without any notes, and had a good memory of Russian experts and their relatives."
As for the recent 19th CPC National Congress, he believed that the plan for the period from 2020 to the middle of the century is a grand and progressive program for the next Chinese generation, and it would be a great cause to realize.
At the same time, Ganin suggested that more attention needed to be paid to ecology in China's development as the environment around is not so good as before. "Migrant birds have become rare in Yueyang in recent years," Anna added.
"Ganin and Anna, together with another 20 foreign teachers, inject multi-cultural elements and vitality into our institute," said Chen Yu, director of the Office of International Exchanges of the Hunan Institute of Science and Technology.
She believed the faculty and students all felt the impact, and international communication capabilities that were being fostered among them. "Sometimes we've forgotten they are foreign teachers as we get along well like friends and family members," she said with a bright smile.
(Source: China.org.cn)