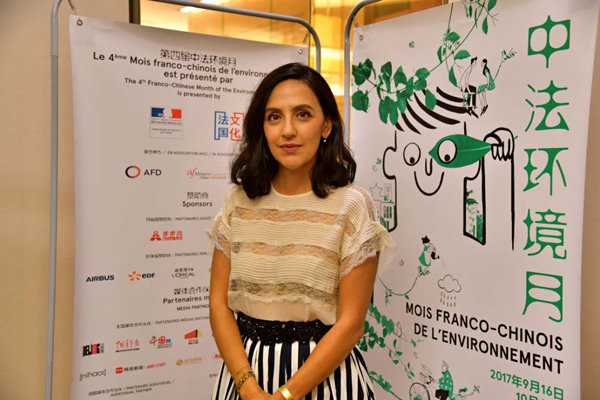 Anais Martane [chinadaily.com.cn/Zhang Xingjian]
To most Chinese people, Anais Martane is not a well-known name but her celebrity husband Liu Ye has brought her into the spotlight.
Their romantic story has been widely shared on Chinese social media and they have been praised as the model couple in China's entertainment circle.
As a French woman, Martane is very interested in Chinese culture and has devoted herself to Chinese public service events.
In 2017, Martane served as the ambassador of the 4th Franco-Chinese Month of Environment event.
On Aug 31, China Daily Website interviewed her about her views on environment protection, family and life.
Reporter: Why did you volunteer to become the ambassador of the 4th Franco-Chinese Month of Environment?
Martane: First of all, I am honored to take the chance to learn more about the environmental solutions that France, Europe and China are proposing and bringing to reality.
Also, the Franco-Chinese Month of Environment is conducive to reaching out to a large number of people to explain what is at stake and how to take action for our environment.
My relationship with environmental protection began with a connection to the sea, as my childhood was spent in a coastal town, and I am crazy about everything to do with the sea.
Reporter: Could you say something specific about your bond with sea?
Martane: Of course… I often go diving with Liu Ye and we witnessed the evolution of underwater ecologies and became aware of what was happening to them.
Seven years ago, we came face-to-face with leopard sharks and were able to observe them several times. A few years later, the leopard shark has completely disappeared. The impoverishment and damage to coral reefs have put pay to an entire ecosystem. It is now a pool of jellyfish.
But on the positive side, the pool of information has been growing and democratizing as well. It is important to understand why an ocean with fewer or no more fish corresponds to a lack of oxygen on earth, thus, no possible life.
Access to information is the key to saving our environment, and our testimonies prove it every day.
Reporter: As a celebrity, what do you do to protect the environment in daily life?
Martane: Haha, do not call me "celebrity", I am just a normal woman who wants to do something for our homeland.
To begin with, it should be "less plastic, less plastic and less plastic". Each time we buy household appliances, clothing, toys, flip-flops, gadgets made of plastic, we should consume intelligently and reconsider if we really need them.
Also, we should avoid industrial products as much as possible to protect the environment and your health. Where are they going matters much to me.
Reporter: Could you explain the core idea of "Where are they going?"
Martane: Actually, this is a habit developed by myself. When I try to throw something old or bad, I will ask myself where they are going before doing it.
For instance, I have an out-of-date DVD player at my home and it often breaks. Liu often tries to persuade me into buying another new one but I refused the option.
From my perspective, once I throw the machine in the garbage bin, it will be decomposed into invisible chemical molecules. The molecules then will be transferred into the ocean and most of them will be eaten by the fish. Not surprisingly, human beings will eat the fish and the harmful materials will finally return to our body.
Reporter: Liu Ye once said a famous saying about you. He described you as the lucky woman to save his life and soul. What is your understanding of that?
Martane: Wow, it sounds so significant to me, but he has never said it to me face-to-face. (Laugh…) To be honest, I do not know why he said such a moving sentence to the press at that period, but I thank him for loving me so much. To me, he is probably the man who also saves my life and soul.
Reporter: Your son Liu Nuoyi has risen to fame thanks to the popular TV show Where Are We Going, Dad? As a child star, he may be at risk of being overexposed in the spotlight. Do you have any concerns?
Martane: First of all, I have to admit that Where Are We Going, Dad? is really a creative talent show in China and I like it. I am not worried about my boy as he should learn to be independent.
On the positive side, he could have more time to spend with his busy father. Also, it is our family's pleasure to bring more fun and happiness to the TV viewers.
I often tell Liu Nuoyi that you have lived in the spotlight, so you have to be careful about what you do in your daily life. Many people have witnessed your growth, and you cannot let them down.
Each time he always gives me a yes, and I believe him.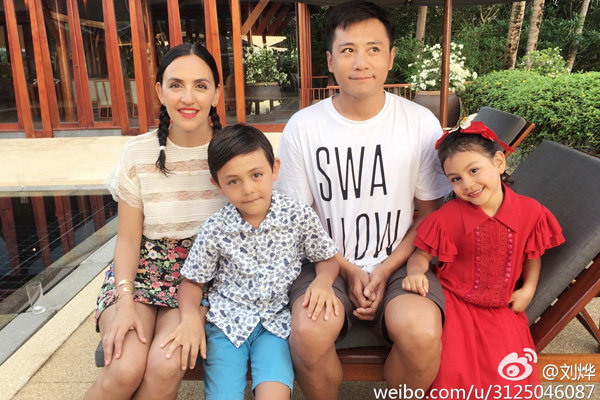 A photograph of Liu Ye's whole family [Photo/Official weibo account of Liu Ye]
(Source: chinadaily.com.cn)