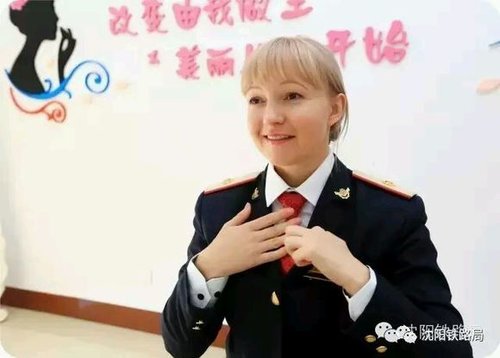 Marina [WeChat of Shenyang Railway Bureau]
At the Hunchun High-Speed Railway Station in northeast China's Jilin Province, a uniformed Russian woman with blonde hair and bright green eyes was busy serving foreign passengers in the waiting room.
Marina, from Primorsky Krai-a coastal province in the southeastern part of Russia-is serving as a volunteer at the station during her Spring Festival holiday. She works at the Huichun Service and Contact Center for International Talent and has lived with her Chinese husband in the city of Huichun for five years.
"It's quite interesting to celebrate the festival by serving during chunyun [the Spring Festival train travel rush]," said Marina in fluent Chinese. "I feel rather proud of serving passengers as a volunteer."
This is the second chunyun for which Marina has volunteered to help.
In September 2015, a high-speed railway commuting between Changchun-capital of Jilin-and Hunchun was fully opened to passengers. In early 2016, it welcomed its first travel rush.
Equipped with a good command of three languages-Russian, English, and Chinese-Marina volunteered to work at the station during her holiday.
Her great patience and dedication helped many foreign passengers through their problems caused by communication difficulties.
Having worked at the station for some time, she has now memorized a significant amount of useful information, including the timetable of each train and how to purchase a ticket. She knows the station even better than its crew does.
To make her job easier, the station gave her a railway uniform as a gift.
"It makes me look energetic. When Russian passengers saw me, they felt both warm and astonished," she said with a smile, her eyes shining.
To serve passengers in a better way, she carries a large thermos wherever she goes, so she can provide hot water to passengers who need it.
Each time she sees adults traveling with children, she always walks up to them and helps them check their tickets and board the train.
What Marina has enjoyed about the Spring Festival travel rush is that the number of travelers has increased greatly; and accordingly, trains depart more and more frequently.
"There are more and more foreign visitors in the station and on the streets of the city," she said. "I've gotten busier and busier."
The main reason for her busyness is the growing openness of the railway and the constant completion of other new transport lines.
Due to the construction of these channels, the small city, which is adjacent to North Korea and Russia, has turned into a hub, handling more and more people and goods and brimming with bustle and vigor.
Marina also benefits from Hunchun's status as a travel hub: Transport through the well-equipped Huichun Border Port is quite convenient. It takes her only some seven hours to reach her parents' home in Primorsky Krai from Hunchun.
"Thanks to the convenient transportation infrastructure, my parents can see their grandson frequently," she added.
As the number of passengers grows, Marina alone is far from capable of meeting all their demands. Prior to this year's Spring Festival, Hunchun Railway Station introduced many self-service machines that come equipped with a Russian interface. With several easy touches of the screen, foreign passengers can access almost all of the information they need.
"The city is becoming more and more international, and Spring Festival is growing busier and busier. I'm quite happy to contribute my own strength to the travel rush of Hunchun, my second hometown," she concluded.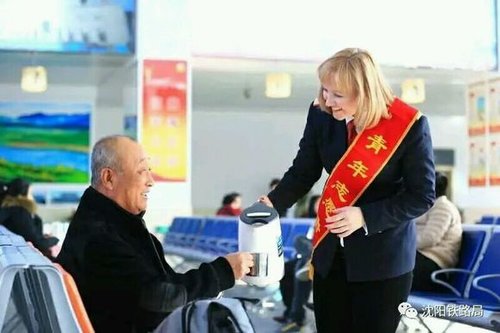 Marina (R) offers hot water to a passenger. [WeChat of Shenyang Railway Bureau]
Marina (R) carries a Chinese boy in her arms. [WeChat of Shenyang Railway Bureau]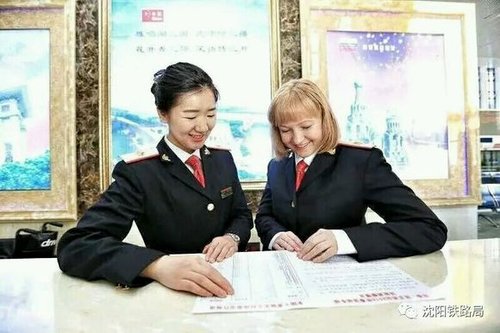 Marina (R) checks the railway timetable. [WeChat of Shenyang Railway Bureau]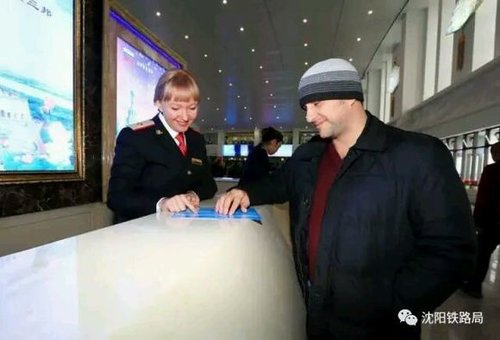 Marina (L) looks up information for a Russian passenger. [WeChat of Shenyang Railway Bureau]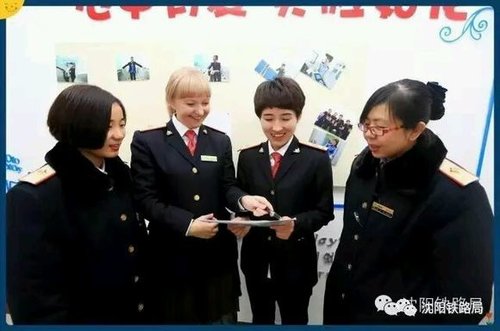 Marina (L2) and three railway workers [WeChat of Shenyang Railway Bureau]
Marina (C) offers counseling to two foreign passengers. [WeChat of Shenyang Railway Bureau]
(Source: Xinhua/Translated and edited by Women of China)