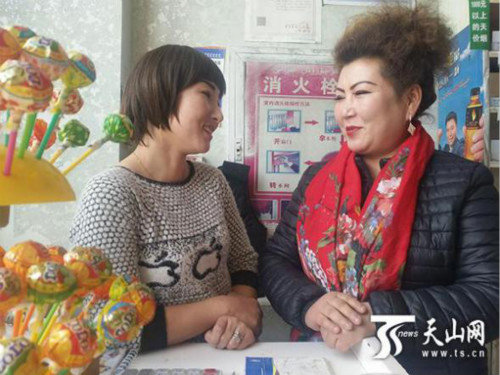 Ayi Munisha (right) talks with Ajiguli Ashan [www.ts.cn]
A successful businesswoman who started her own business by opening a restaurant in Alaer City, northwest China's Xinjiang Uygur Autonomous Region, recently spoke to interviewers to share her story of leading local women into entrepreneurship.
Ayi Munisha, 45, is a successful businesswoman who owns a restaurant in Alaer City, Xinjiang Uygur Autonomous Region.
"After starting her own business successfully, she never forgot her neighbors and spent money each year helping poor families. She is also a volunteer lecturer engaged in encouraging countyship to earn money outside," noted Guo Qinjun, deputy secretary of the Party Committee of the Tokayi Township and secretary of the Disciplinary Committee.
At the age of 25, Ayi Munisha was laid off shortly after her pair of twin girls were born.
That winter, the two children fell ill at the same time, and her husband's income was not enough to support the family, therefore Ayi Munisha, who had previously worked in a hotel, decided to start her own business by opening a restaurant.
Her parents bought her a house in Alaer City and she wanted to sell the house to fund the restaurant. When she told her family about her plans, she was unanimously opposed by her parents and brothers.
However, the strong-minded woman believed that her business was more important than the house. So she sold the house without telling her family at the price of 98,000 yuan. She then borrowed 40,000 yuan and returned to Tokayi Township to open a restaurant.
Fortunately, the restaurant turned out to be better than expected. In the first year, Ayi Munisha paid off her debt of 40,000 yuan; in the second year, she bought a car; and in the third year, she took out a loan to buy a house in Alaer City.
"In three years, I not only had a new house, but also a restaurant and a car. From then on, my relatives began to understand my choice," she said.
In 2004, she opened the chain restaurant in the city and expanded its store scale to 120 square meters, which became the most prosperous restaurant in Taoyuan Pedestrian Street.
However, Ayi Munisha has encountered problems in all her restaurants: recruitment is difficult. She had serve as both the cashier and the waiter, and in addition, she had to go to the kitchen to wash the dishes when she was free.
On International Women's Day on March 8, 2005, the Women's Federation of Tokayi Township asked her to go back and talk to women in the village about how to build their self-confidence and realize their own values.
"With this opportunity, I gave lectures in several villages as a representative of entrepreneurial women, explaining to everyone the benefits of getting out of the house to make money in the outside world," Ayi Munisha said.
From then on, whenever she could, she would return to her village to give lectures.
In 2007, Meziyamu Muza, a villager from Erdui Village, became the first woman to work in Ayi Munisha's shop.
At that time, the newly divorced Meziyamu Muza was raising up her two kids by farming and doing odd jobs to maintain them.
After Ayi Munisha learnt of her situation, she went to her house to persuade her to go to work in her shop.
As she became more and more skillful in her work, Meziyamu Muza also grew more and more beautiful and confident.
Now, her son is learning how to cook in the restaurant and her daughter is in middle school. With a monthly salary of 3,000 yuan, Meziyamu Muza was very satisfied.
Gradually, the villagers' ideas changed. Many women from Tokayi Township began to work in Ayi Munisha's restaurant.
In 2010 and 2018, she opened two new stores, providing more jobs for the women in the villages. At present, the two stores have nearly 60 waiters and waitresses, 40 of whom are from Tokayi Township.
Her restaurants rely on rich Xinjiang customs, authentic and distinctive Xinjiang cuisine, and have become the first choice for Alaer people to receive friends from other places.
In addition, after learning of the management methods in Ayi Munisha's store, the young people in Tokayi Township, with the support of Ayi Munisha, also raised funds to start their own businesses.
Ajiguli Ashan, 27, a villager from Tokayi Township, runs a supermarket with her two children on Taoyuan Pedestrian Street and earns more money than her husband, who earns 5,000 yuan a month.
In addition to driving the villagers to get rich, Ayi Munisha has spent tens of thousands yuan each year since 2010 to help impoverished residents of the village.
She often takes her children with her when she goes back to the village, "I want the children to know how to be grateful."
Speaking of her hopes for 2019, she said, "In the new year, I hope that all the poor households in the village can escape poverty and I will continue to help everyone."
Ayi Munisha (left) [ts.cn]
(Source: ts.cn/Translated and edited by Women of China)