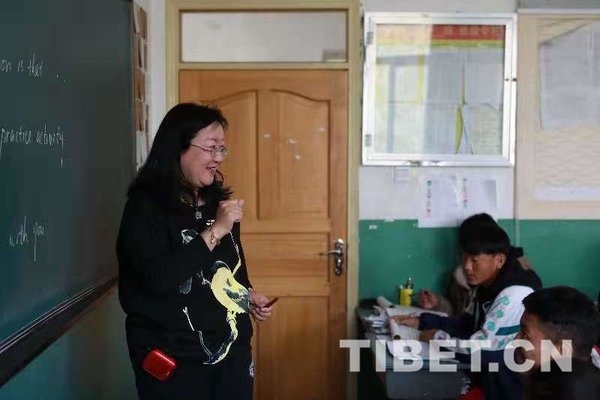 Chen leads a class of students. [Tibet.cn]
A kind-hearted Chinese English teacher has committed herself to education in southwest China's Tibet Autonomous Region over the past two years to better help local youngsters, according to a recent profile.
Chen Yingzi had already been a teacher for 27 years when, in the summer of 2016, she joined a charity project to benefit Tibet, where she was assigned to teach at a middle school in the capital city of Lhasa.
There is less oxygen in the air in winter than in other seasons. At that time, Chen has difficulty going upstairs as she often gasps for air when she just climbs to the third floor.
However, the problem is nothing when measured against the sense of fulfillment she has gained at work.
The students in Tibet are weaker in terms of basic knowledge, especially in English, as compared with their counterparts in Beijing, where one class usually consists of 30 students, whist the class is twice as big in Tibet.
"I have a heavy workload here, but I feel I am needed whenever I see the look my students give me that shows their worship and trust in me," Chen stated.
Chen's class has 59 students, most of whom are from grazing lands. Given their different academic levels, Chen divides them into three groups, assigns homework and organizes quizzes.
After adopting such a way of teaching for three months, Chen is glad that all her students have more or less made progress in their study.
More importantly, Chen has established a good relationship with the students, who are willing to share their own experiences with her.
"I regard them as my own children and I am willing to be their listener. During the self-study period in the evening, I often prepare snacks and bring school supplies for them. After each monthly exam, I buy prizes to reward students who have made academic progress," said Chen.
Although Chen hopes to help her students gain more knowledge, she thinks it is more important for them to master the method of study and broaden their horizons.
"By helping them learn about the world beyond Tibet, I expect them to study hard to join their ideal universities and make contributions to their families and society," said the diligent educator.
Her teaching has influenced many students who never thought of improving themselves at universities in other provinces. With wider horizons, they have changed their ideas.
Of the 58 pupils at her school that took national college entrance exams, the majority of them were admitted to colleges in other provinces.
Besides devoting herself to teaching, she has funded a couple of students from impoverished families and promised to support them in this way till their college graduation.
Under her influence, her friends and relatives also joined her. So far, they have funded over 10 Tibetan students.
"I'm just doing something in my capacity. What I hope is that the students receiving my help can carry forward the spirit of kindness and gratitude," Chen concluded.
Chen instructs a student in class. [Tibet.cn]
(Source: Tibet.cn/Translated and edited by Women of China)