Cheng Youqin, a senior cardiologist from Beijing, diagnoses a woman in Gonghe county, northwest China's Qinghai province. [gmw.cn]
Cheng Youqin, a senior cardiologist from Beijing recently participated in a Health Express for Mothers initiative organized by China Women's Development Foundation (CWDF) in Gonghe county, northwest China's Qinghai province.
Health Express for Mothers provides medical treatment for disadvantaged women and children in poverty-stricken areas across the country through vehicles fitted out with medical equipment.
Situated on the Qinghai-Tibet Plateau at an altitude of over 3,000 meters, the Gonghe County suffers from poor transport services.
Cheng, who is in her 60s, experienced altitude sickness during her trip and was unable to eat proper meals. She engaged in diagnosis immediately following her flight from Beijing to Xining, provincial capital of Qinghai province .
An Shengying, who lives 140 kilometers away, went to the free clinic with his medical records and laboratory test reports.
He was one of the 100 patients that Cheng diagnosed in about three hours. Cheng's advice on his cardiac valvular surgery has helped him a great deal, she said.
"Through such free clinics and health promotion activities, the health awareness of women in poverty-stricken areas in west China has improved. The screening of cervical and breast cancer has been popularized here," said Cheng.
"However, compared with the big cities in east China, there is still some sort of gap," she added.
She hoped that the Health Express for Mothers project can further strengthen the promotion and popularization of health knowledge for women in poverty-stricken areas of west China and enhance public health awareness, so that more people can develop healthy living habits.
The project has provided 2,624 mobile clinics and vehicles fitted with medical equipment, donated 390 million yuan and benefited some 66 million people in 30 provinces, regions and municipalities over the past 15 years, according to a spokesperson.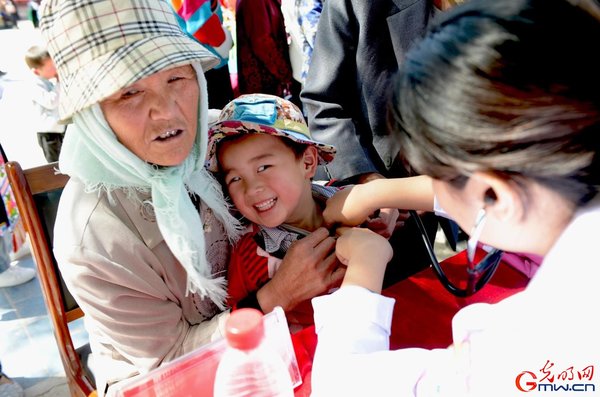 Doctor of Health Express for Mothers initiative organized by China Women's Development Foundation (CWDF) diagnoses a boy in Gonghe county, northwest China's Qinghai province. [gmw.cn]
Cheng Youqin, a senior cardiologist from Beijing, diagnoses a man in Gonghe county, northwest China's Qinghai province. [gmw.cn]
(Source: gmw.cn/Translated and edited by Women of China)