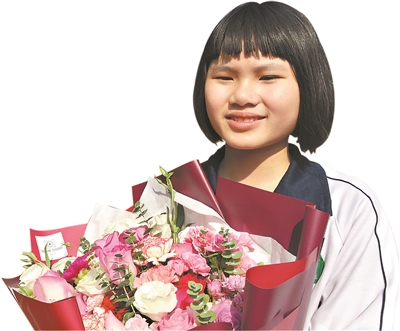 Liang Zhenying [Guangzhou Daily]
A middle school student from south China's Guangdong Province volunteered to help a four-year-old boy after seeing him getting lost on his way home from a training center on November 4.
Liang Zhenying is a Grade 8 student who is currently studying in a middle school in Chang'an, a town in the city of Dongguan, Guangdong.
On her way to school at around 5 p.m. on November 4, she saw a boy (pseudonym: Ayu) crying by the roadside with no adult nearby.
After talking with Ayu, she found out that he didn't see his mom coming to bring him home and therefore chose to walk home alone but ended up getting lost on the way.
Ayu only knew he lived in a community called Fuanju.
Liang thought that community was near her school, so after comforting Ayu, she decided to take him to her school and ask her teacher to help him find his parents.
Since she didn't have enough money on her to call a taxi, she walked to school together with Ayu. She kept chatting with Ayu on the road, trying to calm him down.
After walking for about an hour, they drew nearer her school.
"I live in this community," said Ayu happily on seeing his community near the school.
Before she left him, Liang asked Ayu to call her mom once he had returned home. She didn't leave until Ayu vanished out of her sight.
Ayu's parents came to express their thanks to Liang at her school, after finding her with the help of the police.
"I really appreciate your help. I was so worried when I came to the training center but didn't see my kid. I even called the police for help after looking for Ayu for about 10 minutes," said Ayu's mother.
According to Ayu's father, his wife had a haircut in a beauty salon near the training center after dropping their child off there. Later, she sent a short message to Ayu's teacher that she would collect her child a little bit later, but the teacher must not have seen the message.
That was why Ayu, after waiting for about 10 minutes in the place where his mother usually parked, decided to walk home alone.
To avoid similar incidents, a policeman says it is important for parents to pick up their children on time. If they do have something to attend to, they should make a phone call to the teacher directly, rather than just send a message.
Video surveillance footage shows Liang Zhenying walking the boy home. [Guangzhou Daily]
(Source: Guangzhou Daily/Translated and edited by Women of China)