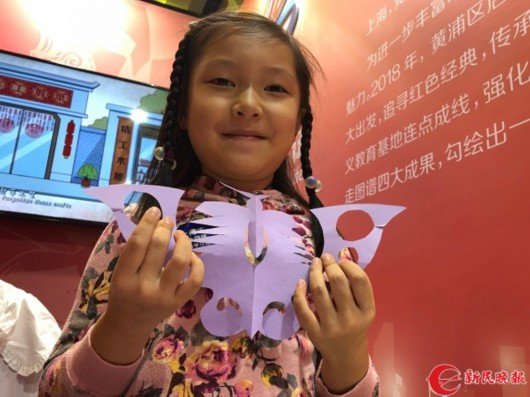 Jin displays her excellent paper cutting skills. [Xinmin.cn]
Jin Youqi, an 8-year-old girl, has been learning from the representative inheritor of Shanghai paper cutting craft, Li Shoubai, since she was 5.
Shanghai-style paper cutting, as a regional culture with distinctive characteristics, is an intangible cultural heritage of Shanghai. In the 19th century, paper cutting emerged in the Old City area and Xujiahui area of Shanghai, and originally presented in shoe ornaments and embroidery patterns.
Jin's parents took her to Shanghai manual skills teaching institute when she was 4 years old. When she saw that the Shanghai paper cutting artist Li Shoubai was instructing the craft, the little girl became obsessed with the magic art immediately.
Since afterwards, each month she would go to paper cutting class. Her classmates included not only children like her, but also grown-ups and some elderly students. Regardless of their age, gender and occupation, they had one thing in common — they were all inheritors of intangible culture.
At first, teachers needed to draw patterns on the paper for Jin to cut accordingly. But now, the patterns are in her mind, the scissors are her "paintbrush," and she is capable of creating patterns on her own.
Shanghai carried out a Week of Lifelong Learning for All activity recently, where Jin displayed her excellent paper cutting skills. Spectators were amazed that she completed a lifelike butterfly within two minutes.
Jin's experience in paper cutting contributes to staying focused in her study as well, according to her mother.
Now, Shanghai paper cutting has been introduced into many primary and middle schools in the municipality and inheritors of this art have cooperated with many community cultural activity centers to attract more children and community residents.
(Source: xinmin.cn / Translated and edited by Women of China)