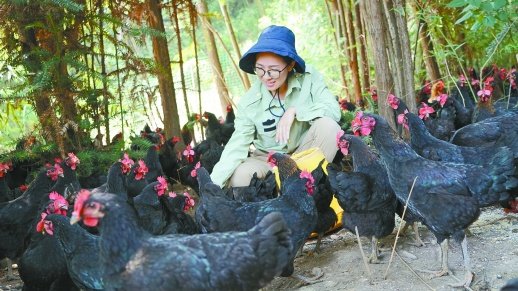 Li Mengdi feeds chicken on the mountain. [Hunan Daily]
A military spouse in Central China's Hunan Province has helped many locals in her village shake off poverty last year by sharing her successful method of raising free-range chickens for profit.
Li Mengdi was born in a mountainous area of Shimen County, Hunan. Her grandfather participated in the war to resist U.S. aggression and aid Korea, and he told her many heroic stories.
Her dream of becoming a hero was rooted in her mind at that time.
She chose to be a soldier when she graduated from senior high school, against the wishes of all her family. She was then admitted to the Music Education Department of Hunan First Normal College.
After she graduated from the college, she worked as a teacher, a model and a dancer until in 2013 when she met a soldier during a tour to Northwest China's Xinjiang Uygur Autonomous Region to learn about the fruit business.
They added each other as friends online via the app WeChat. After texting each other regularly, they fell in love.
Soon, they married, on August 1, which is Army Day in China.
In order to not affect her husband's work, she left his military camp and went home. She later gave a birth to a pair of twins.
As her children grew up day-by-day, she started her own business.
She promoted and sold rural products on WeChat at first and raised over 1,000 Shimen chickens last year with the her uncle's help.
She learned from 20 successful chicken-raising farmers in a villagenearby.
Li established a WeChat group with her teachers for better communication.
In order to ensure her chicken's quality, she designed and commissioned builders to make a chicken house on stilts, and fed the chickens with corn, sweet potatoes and grass that she grew by herself.
She also adopted a free-range model, and took the chickens to the depths of the forest every morning to search for food.
Li earned over 30,000 yuan last year by raising chickens and is set to earn a net income of 70,000 yuan this year after expansions.
Many people in the village came to ask for advice and learned about her methods.
More and more young people started to return to their hometowns to start businesses since her story spread around the county. Over 120 villagers have started their own business until now.
Li became a probationary Party member on July 1. Thanks to her inspiration, villagers became more active in taking action to live a better life.
According to the current development, the per capita net income in the village will exceed 7,000 yuan this year, making it possible for all people in the village to shake off poverty.
Recently, Li participated in a publicity shooting session for Shimen scenery and folk customs.  
(Soure: Hunan Daily/ Translated and edited by Women of China)