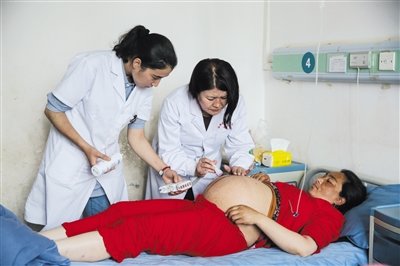 Zhou Yaling (middle) with a doctor from Beijing inspect a pregnant Uygur woman and listen to her baby's heartbeat in the maternity ward of Hotan County's Hospital. [The Beijing News]
A chief physician at a maternity and child healthcare institution in Beijing has twice travelled to work in northwest China's Xinjiang Uygur Autonomous Region in the past two years to relieve the shortage of local doctors.
When Zhou Yaling first went to Hotan County in Xinjiang, she helped make preparations for the establishment of a high-risk maternity clinic. She also formulated relevant work rules, regulations and procedures.
Furthermore, she taught apprentices about one-on-one screenings, registration and follow-up visits.
Hotan is a deeply impoverished county. Its population is seriously lacking in health knowledge, including maternal health.
Most pregnant women have received no prenatal examination. Many pregnancy complications and complications are detected late, which results in many women there becoming critically ill at the time of giving birth.
In December of 2017, during a free medical consultation, Zhou taught 50 Uygur women health knowledge on how to conduct self-examinations for breast cancer, using self-made prenuptial examination and gynecological cancer screening boards, and gave gynecological treatment to more than 30 women in the courtyard of the village committee at minus 10 degrees Celsius.
In addition to medical consultations, during the busy agricultural season, Zhou, who had little experience in farm work since young, also went to the countryside with her team to help locals harvest wheat and pack corn.
She said that aiding Xinjiang is an endeavor that involves not only intellectual support but also the promotion of ethnic unity. Thus, the more we do, the bigger role we can play.
In March of 2018, Zhou went to Hotan again. This time, from the perspective of how to give full play to the function of Hetian County Maternal and Child Care Hospital, she focused her work on the management of women's healthcare in the medical institutions in the county as well as on the promotion of the management level of women health care in the county as a whole.
Since 1996, Beijing has sent a total of 561 outstanding doctors in aid of Xinjiang. They have served as deputy directors or directors of the department in charge of business in recipient hospitals, assisting local doctors to treat patients and guide other professionals.
They brought with them advanced medical technology from Beijing and cured diseases for local people.
With the assistance of batches of doctors from the capital of Beijing, in Xinjiang, the people's hospitals of Hotan, Luopu and Moyu counties have successively established specialized departments of urology, neonatology and hematology, which were all urgently needed in the area.
(Source: The Beijing News/Translated and edited by Women of China)