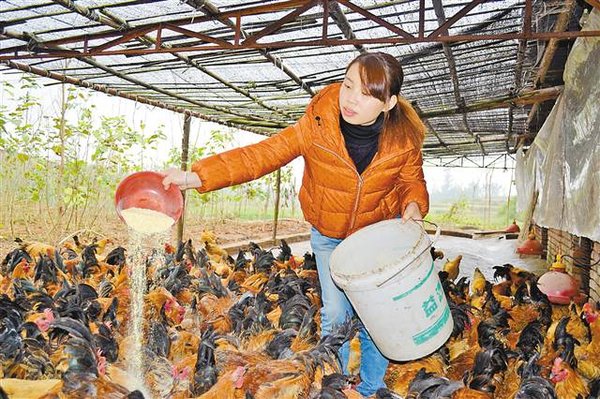 Zhang Xue feeds chicken in her hennery. [Dxscg.com.cn]
A female village official from Chongqing Municipality in southwest China has dedicated herself to promoting the rural development and helping people improve their incomes for almost a decade.
Zhang Xue, born in the 1980s, is now the party secretary of Tong'an village in Rongchang district of Chongqing.
Zhang gave up her job in a bank and chose to be an assistant director of the Luzi village committee after graduating from university in 2009.
"I wanted to find my real value in the village," she said.
She took 100,000 yuan of her dowry money to take the lead in building a chicken farm, and established a supply and marketing cooperative with other village officials, making it the first platform in Chongqing to sell local farm products.
In late 2011, 24-year-old Zhang was elected director of the village committee. She was quickly transferred to the secretary of Party General branch in the village of Tong 'an in August 2013.
The village is rich in Sichuan pepper and eggs while lacking a channel to sell them. Thus, Zhang took the lead in the establishment of an agricultural e-commerce incubator platform at the end of 2014 after an in-depth investigation.
She gradually added e-commerce service outlets and adopted a new operation mode, which realized a two-stream flow of agricultural products and consumer goods between the city and the village.
The outlets have so far helped over 1,300 farmers sell products and improved income by 2,500 yuan for each household on average annually, some even as high as 10,000 yuan.
Zhang plans to finish three goals this year. First, set up a bed and breakfast; second, transform an abandoned distillery; and third, set up an agricultural cooperative.
"The collective economy will be increased by about 200,000 yuan after the three major events are completed at the end of this year, according to my calculation," she said.
(Source: Youth.cn/Translated and edited by Women of China)