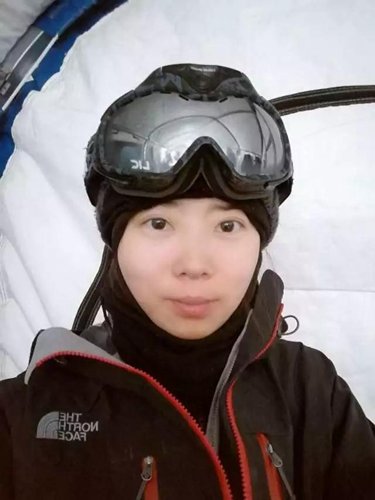 Feng Jing wears a ski suit with ski goggles. [Peking University]
Feng Jing, 36, reached the South Pole on January 8, 2018 after skiing 1,130 kilometers, becoming the first Chinese female skier to achieve the feat.
After graduating from the School of International Studies at Peking University, Feng chose to work in an enterprise for six years and lived an ordinary life.
In 2010, she chanced upon a book by the Japanese travel writer Yusuke Ishida, and she yearned for the pure world depicted in the book. Afterward, Feng made a bold decision to quit her job and start traveling worldwide.
Feng's first "backpacker" long-distance travel started in 2012. It took her seven months to finish the trip across Eurasia. From 2013 to 2015, Feng completed two more long-distance trips in the Middle East, Africa, and the American continent, covering more than 80 countries and regions.
Although she was not good at cooking, Feng always took her "five samples" (prawn curry, black pepper mushroom, cola chicken, fried eggplant and mashed potato) to entertain those who provided her accommodation during the journey.
Feng said she had encountered a young man who was serving in the army on the Siberian railway. Although the man could not speak English, Feng talked with him all the way through and they could understand each other.
A policeman at the Sudanese border took Feng in and arranged for her to rest in the best thatched cottage. In the center of Bogota, Columbia, however, Feng was robbed. Fortunately some kind locals helped her to catch the thief.
Having traveled all over the world, Feng gradually came up with the idea of conquering the Antarctic, the so-called "world's seventh continent." She wanted to complete an Antarctic expedition — the challenge of traveling from the coast of the Antarctic continent to the South Pole.
Many records told Feng that she would not succeed because only one Chinese male had successfully completed the expedition and few people in the world were able to complete this journey.
Although she couldn't even ski, she wanted to cross the Antarctic continent in inclement weather with limited supplies. Her Canadian guide said she was the slimmest student he had ever met. But Feng, with an indefatigable spirit, kept practicing skiing for three months. She insisted on running a half marathon (some 20 kilometers) to increase her physical strength and exercising every day to build up muscle.
She said, "I just want to prove that women can, Chinese people can and I can." For 1,130 kilometers and 52 days, Feng was accompanied only by snow. She tried her best to walk in the snow and kept telling herself that every step is a huge leap towards success.
At 3 p.m. Beijing time on January 8, Feng finally arrived at the South Pole, raising the Chinese national flag in pride.
She said, "It is truly an unforgettable moment of happiness in my life, and my voice was choking when I told the good news to my friends and relatives." Her undergraduate class teacher Yu Tiejun said: "Feng Jing's feat of expedition to the Antarctic on her hiking trail not only proves herself, but also once again proves that our nation has kept its spirit and power of pursuing dreams, courage and tenacity."
Feng said that she is not yet an "explorer." For the future, she will continue to chase more dreams.
Feng Jing arrives at the South Pole, raising the national flag. [Peking University]
Feng Jing hugs her guide Paul Landry when she arrives at the South Pole. [Peking University]
Feng Jing's injured feet. [Peking University]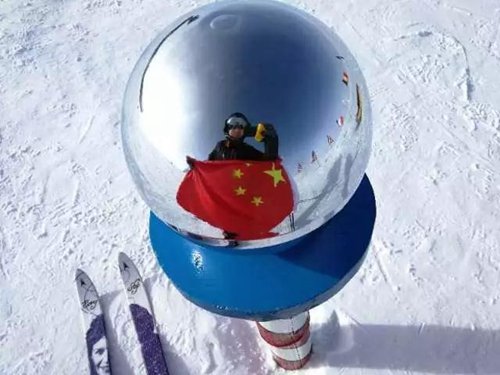 Feng Jing arrives at the South Pole. [Peking University]
(Source: Xinhua/Translated and edited by Women of China)