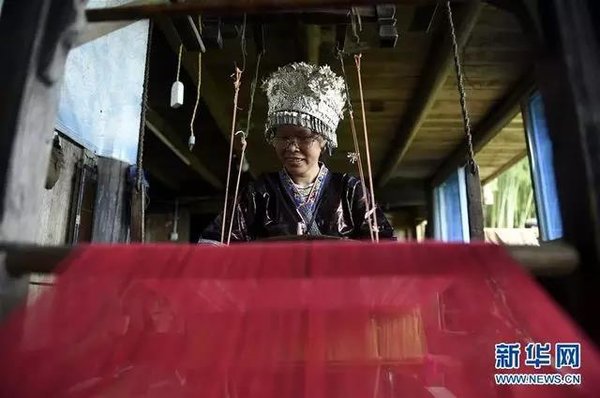 A Miao woman makes embroidery at home. [Xinhua]
Miao embroidery, an intangible cultural heritage in south China's Guangxi Zhuang Autonomous Region, has helped "left-behind" women get rich.
Jia Huilian is one of the new female embroiders who has been assisted by Li Yiyuan, a municipal-level representative inheritor of Miao embroidery.
Jia makes Miao brocade at home in the slack farming season with material provided by Li, who is also responsible for product sales.
It will increase Jia's monthly income by over 1,500 yuan.
Miao embroidery is an exquisite handicraft with bright colors, which has high value in inheritance and is important to protect.
It was approved by the state council as the first national intangible cultural heritage listed in 2006.
People have been living traditional lives in the Great Miao mountains in Rongshui County, Liuzhou City where the men plough and the women weave since ancient times.
Many women there can make Miao embroidery handicrafts.
Most of the young Miao girls, however, have left hometowns to find work in cities in recent years. This, coupled with a complicated and lengthy process to make Miao embroidery the number of people who can make it has continued to decrease.
A lot of fine and complicated Miao embroidery techniques have rapidly degenerated and disappeared as the older generation of embroiderers passed away.
"Such a unique craft should be carried forward to make people see and recognize its value and we must attract more people to inherit the craft," Li said.
With the support of government departments and family, Li has invested over 300,000 yuan in founding the Miao Embroidery Inheritance Base.
She organized local village women, who didn't choose to work outside, to make embroidery, and expand its market by displaying and selling unique Miao handicrafts.
"It is my goal to make it possible for women to make embroidery, and take care of babies and the elderly in their family, all while managing a home," Li said.
The base has attracted more than 60 "left-behind women" to join the group, and their per capita monthly income has jumped from three digits to four digits.
There are various kinds of products, such as shoes, clothes, trousers, scarves and suspenders, which are all integrated with Miao embroidery characteristics at the base.
"We are trying to integrate handmade Miao embroidery into the design of modern clothing, luggage and accessories, revitalizing the ancient Miao embroidery with the help of modern fashion," Li said.
"I hope Miao embroidery can be better understood by people to open up a new market, which will therefore attract and encourage more women to regain this skill and promote folk handicrafts," Li added.
The local women's federation is also taking action. The women's federations in Liuzhou and Rongshui have been actively carrying out a Miao embroidery-related poverty alleviation project.
A group of highly skilled embroiderers took part in the project and achieved employment at home using the traditional craft.
The works of some embroiderers have also been praised by industry experts in domestic and international women's handicraft exhibitions.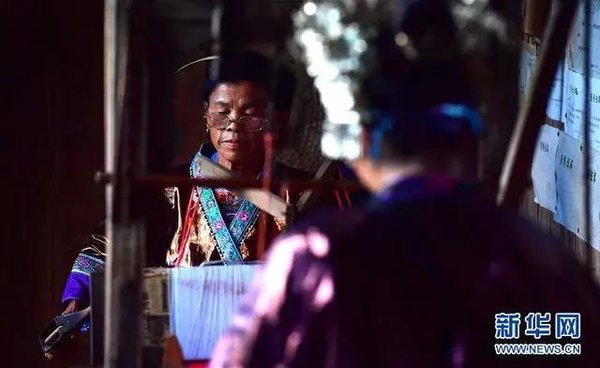 Miao women make embroidery at home. [Xinhua]
Miao women make embroidery at Miao Embroidery Inheritance Base. [Xinhua]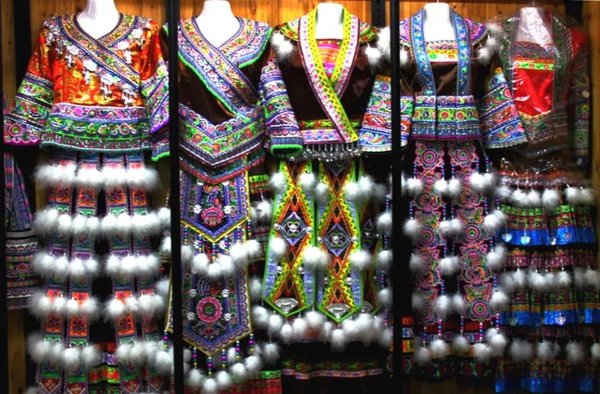 Clothes integrated with Miao embroidery characteristics. [Xinhua]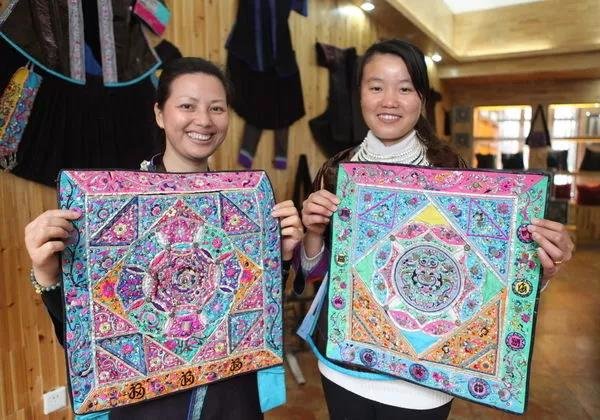 Women embroiderers show their products. [Xinhua]
(Source: Xinhua/Translated and edited by Women of China)