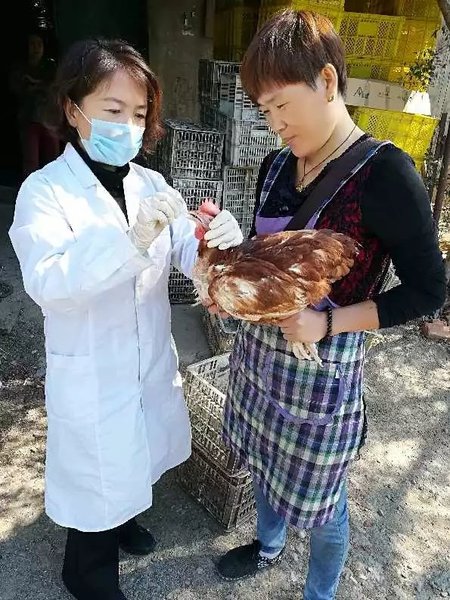 Sun Jiaying (L) provides a local farmer with medical support for treating poultry. [Huadian Women's Federation]
A female veterinary physician from Northeast China's Jilin Province has dedicated herself to providing local farmers with professional guidance and essential services during their commercial cultivation of livestock and poultry for nearly three decades.
Sun Jiaying, 45, officially became a vet at a township service station in the county-level city of Huadian when she graduated from a vocational and technical school in 1991.
Thanks to her solid academic knowledge, hard work and keen eagerness to improve skills, Sun quickly grew from a rookie to a key player amongst employees at the service station.
Meanwhile, her reputation in the treatment of livestock and poultry disease has spread far and wide across the entire region.
Sun started to work alone in 1995. Since then, regardless of harsh weather, she often travelled across the township and showed up when local farmers' livestock and poultry fell ill.
Later, she chose to stay with local farmers for two years and successfully worked out a solution to technically improving the quality of their cattle.
Under her support, the township has set up one breeding plant and 22 farms where over 6,000 cattle have been reared annually.
Sun has pressed ahead with the task to assist local farmers in their cultivation of hens and pigs on an intensive scale when she was transferred to another township in Huadian in September 2011.
She has persisted in online learning and visited other places for advanced experience as well as practice in a move to be constantly competent in her post.
So far, her township has made a noticeable progress in the cultivation of the breeding industry. It is home to 79 pig plants, 14 cattle farms and 11 hen rearing workshops, all of which are covered with her technical support.
Due to her decade-long hard work in rural areas, she has developed serious rheumatism and nowadays finds it difficult to stand up for long periods of time.
"Recognition and praise from local farmers matter more to me than the awards and titles that I have received over the past few years," said Sun during a recent interview.
(Source: people.com.cn/Translated and edited by Women of China)