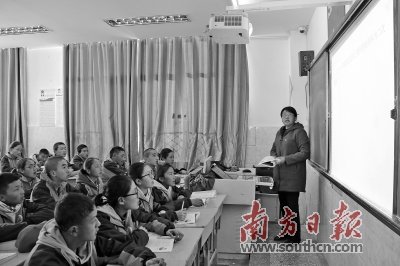 Ba Zhen teaches physics on a course for local students. [southcn.com]
Ba Zhen, a 47-year-old middle school teacher from southwest China's Tibet Autonomous Region, has dedicated herself to the development of local education and the assistance of her students for years.
Ba, who is from the Tibetan ethnic group, became a teacher in Lhasa-based Doilungdêqên Middle School after she graduated from Tibet University in 1994. Early on, she was involved in local poverty alleviation with an emphasis upon education.
She set up a scholarship with her own salary in 2004, upon the 30th anniversary of the middle school, to increase local students' interest in their studies of physics.
Back then, it was difficult for Tibetan students to learn physics since the course was given in Mandarin, which was not as widely spoken as the local language.
Although Ba's financial incentives ranged only from 100-200 yuan (U.S.$ 16-32), her scholarship played a key role in boosting local students' willingness to study the subject and consequently improved their academic performance.
In addition, Ba often bought small presents to her students when she had an opportunity to visit other places.
Under her encouragement and financial assistance, many students excelled in their academic studies and dreamed of entering key senior high schools and even prominent universities in coastal cities.
Ba was elected as a delegate to the 19th National Congress of the Communist Party of China (CPC) held last October, in recognition of her decade-long contributions and sacrifices to the noticeable progress of local education.
She explained that the emphasis upon support for social and economic development in Tibet and other areas with a large population of ethnic minorities in President Xi Jinping's report has given her additional confidence in the further growth of local education and the improvement of locals' living standards.
When talking about her own dream in a recent interview, Ba said that she wishes to help all students fulfill their expectations.
(Source: Worker's Daily/Translated and edited by Women of China)