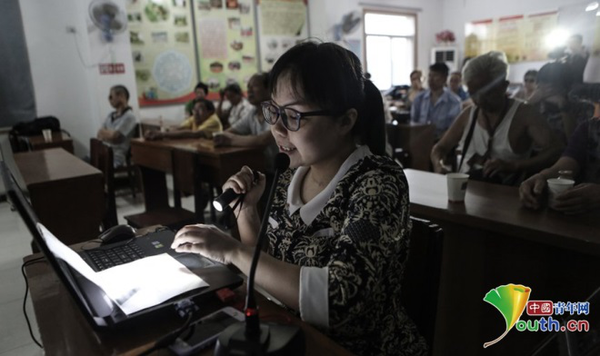 Du Chengcheng explains a film to local blind people in June 2014. [Provided by Du Chengcheng to qclz.youth.cn]
Du Chengcheng, a physically-impaired woman from the city of Wuhan in central China's Hubei Province, has been helping local blind people to realize their dream in "seeing" films through her eyes and voice for nearly eight years.
Du, 32, suffered from a nerve tumor when she was a young girl. She was forced to suspend her academic studies from a Wuhan-based college and rely on a wheelchair or a crutch when an operation failed to fix her left leg in 2006.
Three years later, the condition of her disease deteriorated and she thus had to undergo an amputation.
It seemed to Du at the beginning that there would be no sunshine in her future life. Back then, her condition made it impossible for her to stand up alone, and she felt utter hopelessness.
A ray of sunshine came into her life when she was recruited as an assistant for the management of physically-impaired people's affairs in a residential community in the summer of 2007.
Du said the job provided her with full dignity and meaning to continue her life, even though the salary was relatively low.
She became a social volunteer and attended professional training courses when local authorities were planning to set up a cinema for the blind in 2010.
Du said, "I was deeply touched when I first heard a college student explaining films for the blind. The smiles of the audience left a deep impression on me. I hope to bring happiness to blind people."
After a week-long preparation in October 2010, her debut in providing audio commentary for Under the Hawthorn Tree to the visually-impaired audience proved to be a great success. The film was directed the same year by prominent Chinese director Zhang Yimou.
Du has acted as an "interpreter" to help those underprivileged people "see" films with her voice ever since. By now, she has provided commentary on over 200 films and helped thousands of blind people realize their dream.
Du was recognized by the Publicity Department of the Central Committee of the Communist Party of China and the Central Civilization Office as the most "beautiful" volunteer in a nationwide selection in 2016 for her consistent efforts in assisting others.
In addition to getting recognition, Du realized one of her biggest dreams last March. She was invited to do a recording for her favorite TV show, the popular China Central Television cultural program Reader. She grasped the opportunity to encourage people to strive for personal dream against all odds.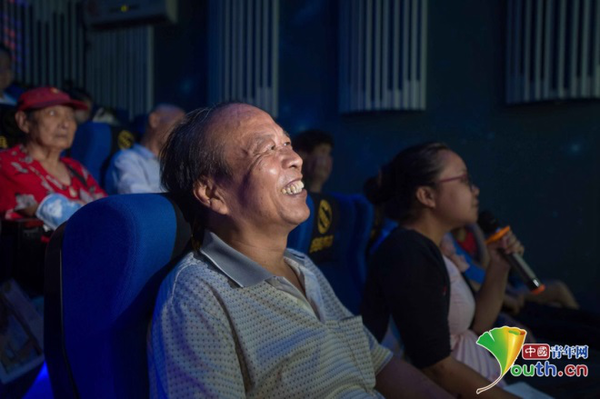 An elderly man smiles whilst he listens to Du Chengcheng's explanation of a film in July 2017. [Provided by Du Chengcheng to qclz.youth.cn]
Du Chengcheng (R) receives a trophy at an awards ceremony held by Xinhua News Agency in January 2018. She was voted as one of the inspirational online figures of 2017. [Xinhua]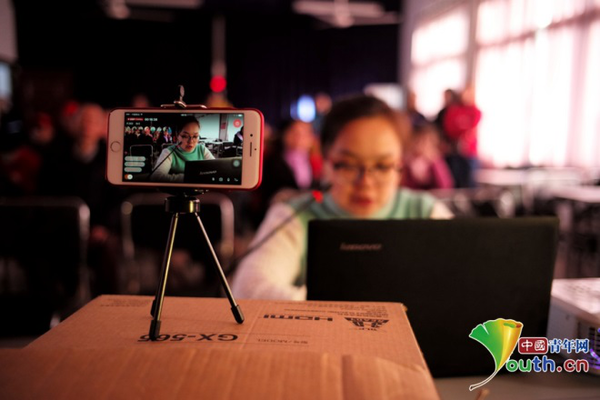 Du Chengcheng opens her live video streaming service in March 2017. [Provided by Du Chengcheng to qclz.youth.cn]
(Source: qclz.youth.cn/Translated and edited by Women of China)