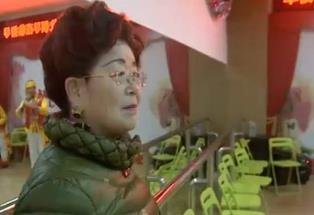 Xu Zhizhu [CCTV]
A female retiree from northeast China's Liaoning Province has committed herself to volunteer services in local nursing homes and welfare institutes in the past decade.
Each Sunday, Xu Zhizhu from the city of Dalian in Liaoning visits locals such as Chen Guilin, along with a group of volunteers, helping to do housework and buy daily necessities.
When the 88-year-old Chen feels unwell due to her poor physical condition, the volunteers take her to hospital, helping her queue for registration and buy medicine.
Looking after Chen is only one of the countless things that Xu says she is "supposed to do."
Since her retirement, she has served as director of an art troupe of her community. Under her leadership, social workers remain active nearby, bringing care and happiness to many people in need.
In 2012 on the eve of the Chinese Lunar New Year, she took Mingming, an orphan from Dalian relief station, back home for the festival.
In addition to buying her clothes and presents, they also visited the local aquarium and tried various street snacks.
When the little girl left, she gave Xu a painting, on which she wrote "Aunt Xu, you are a good person. I will never forget you!"
Led by Xu, social workers in her community organize volunteers to take part in activities held by the local charity federation in the Charity Month of the city every year.
She also organizes community volunteers to collect rubbish on the beach to safeguard the good image of this tourist city, serve passengers at Dalian railway station as guides and help maintain traffic order near the venue of Dalian International Marathon, as well as offering assistance to cancer patients.
Recently, Xu took on a new mission – to guarantee the road safety of primary and middle school students. Wearing uniforms and equipped with whistles, she led social workers to patrol nearby schools in the early mornings and late afternoons, creating a secure environment for students.
In the past 10 years, Xu has organized and taken part in nearly 500 volunteer activities, offering over 10,000 hours of services in total.
(Source: Dalian Daily/Translated and edited by Women of China)