Liao Tianqing (L) talks with a former drug user with AIDS about her health during a normal visit. [Provided by Chongqing Municipal Bureau of Education and Correction over Drug Uses]
As the only place in southwest China's Chongqing Municipality where female drug users with AIDS have been housed for compulsory detoxification of their addiction and ensuing rehabilitation in a state of isolation, the Second Unit of Beibei District Compulsory Detoxification Center has often been labeled by many of them as a "wasteland" upon their arrival on the grounds that it will deprive them of their right to "freedom" and limit their movement.
Thanks to the wholehearted support and considerate care of female police officers, however, the initial misunderstanding and prejudice from the involved drug addicts towards the center have been gradually melted away.
Liao Tianqing, 45, is one of these female police officers who have used their concrete actions and intense love to help female AIDS drug users become more optimistic and regain confidence in their lives.
Zhang Yi, 20, is a former drug addict with AIDS housed in the center. She got into the habit of regularly taking drugs when she was only 14.
Zhang was found with AIDS when she was arrested for taking drugs and underwent a physical examination in another local compulsory detoxification center last April. She recalled that it was possibly her boyfriend who had transmitted the disease to her.
Zhang reacted strongly and refused to cooperate with Liao in a rehabilitation program when she was later sent to the Second Unit of Beibei District Compulsory Detoxification Center. Therefore, she gave up her fight against AIDS and her drug addiction and intended to commit suicide several times.
It was Liao who walked into Zhang's life and cooperated with her parents to jointly encourage her to continue her uncompleted rehabilitation program.
To further brighten Zhang's heart and help her feel warmth from others, Liao held a party with others last month to celebrate her 20th birthday.
Right now, Zhang seems to be full of vitality like many other young people of her own age and even dreams to fully recover from her illness and open a shop to support herself.
To recognize her selfless devotion and outstanding performance in her daily work, Liao has been conferred with many awards and honors in recent years.
During an interview on this year's World AIDS Day (December 1), she called on those involved families and others to show more tolerance and love to former drug users with AIDS since only in this way can they continue their faith in life and can the whole of society effectively resist the deadly disease's spread.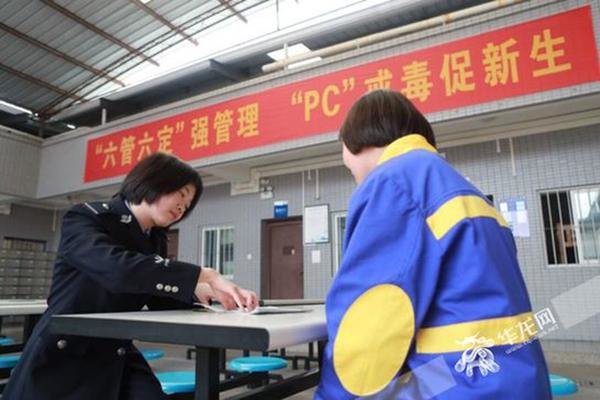 A colleague (L) of Liao Tianqing talks with a former drug user with AIDS about the progress of her rehabilitation. [cqneews.net]
(Source: cqnews.net, Xinhuanet.com/Translated and edited by Women of China)