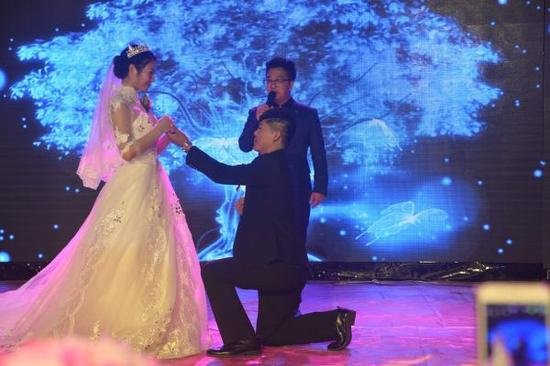 Liu Yingying (L) accepts her husband's offer of marriage at their wedding ceremony on November 4. [thepaper.cn]
A young woman from the city of Hejian in north China's Hebei Province has become an Internet hit for her refusal to demand any betrothal gift, or caili ,from her husband after their engagement this August.
Liu Yingying, 24, said during a recent interview that she and her husband Jiang Sishui worked together in a local decoration company.
After dating for about one year, the couple got engaged this August, though their company discouraged employees from dating their colleagues as a way to better manage its human resources.
As the economic condition of her husband's family was not very good, Liu proposed to her parents that they wouldn't ask for any bride price from Jiang.
Her parents gave their clear objection to the idea under the pretext that they could not break local conventions on this point, though they admitted that Jiang was an ideal candidate for a son-in-law.
Liu finally got her parents' support when her employer visited her family twice and advised them to accept the marriage.
To Liu's surprise, she has now been thrust into the limelight because of her proposal about zero-bride price.
In addition, the local municipal Party chief paid a visit to her company and highly praised her action.
The young couple held their wedding ceremony and got their marriage certificate as planned in November.
Liu explained that she highly valued her husband's character and competence in day-to-day work, which cannot be offset by giant betrothal gifts, when asked why she refused to be in compliance with conventional practice.
(Source: thepaper.cn / Translated and edited by Women of China)