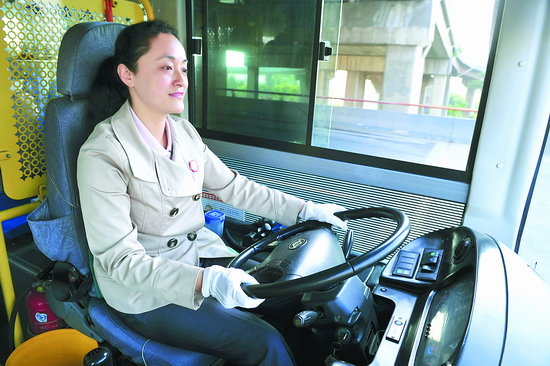 Yang Miaomiao drives her bus. [anhuinews.com]
"The 10-meter-long compartment is the best place for me to closely implement the key points from the 19th National Congress of the Communist Party of China (CPC). I will provide my passengers with a better service and contribute my efforts to the development of green transportation in the next five years," said a female bus driver from the city of Bengbu in east China's Anhui Province.
As a delegate to the 19th National Congress of the CPC, Yang Miaomiao, 41, became a bus driver in 1994.
Local people have been deeply impressed by the services and smile of Yang when they take her bus. They often say that they always feel lucky to board it.
Yang has been conferred with the National Labor Model, the Anhui Outstanding Driver, the Anhui Top 10 Youths and other awards in recognition of her decade-long service.
In addition, the model stories of Yang have been promoted by Bengbu Public Transport Corporation amongst her colleagues since 2009. Under her inspiration, all other bus drivers there have devoted more time and energy to improving their service.
However, all these titles and honors don't come easy. To serve her passengers, Yang has tried her utmost to keep the stops and location of residential communities as well as government departments along all bus routes there in mind.
Meanwhile, Yang has arranged time to read books and learn from others about how to improve her driving skills and repair broken vehicles by herself when she is off duty.
"My election as a CPC delegate has brought many changes to both my work and personal life. To live up to the honorary post, I will further discipline myself and strive for higher achievements in my work," Yang noted in an interview.
As Bengbu has been working on building itself into a "metropolis" of public buses, Yang continued during the interview that the central authorities are expected to introduce more supporting measures and policies in the further increase of local people's utilization of public buses whilst reducing their reliance upon private cars.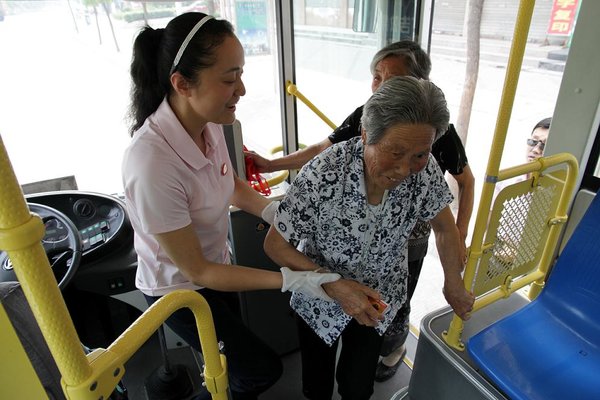 Yang Miaomiao helps two elderly women board her bus. [ahjt.gov.cn]
(Source: china.com.cn, cnr.cn/Translated and edited by Women of China)