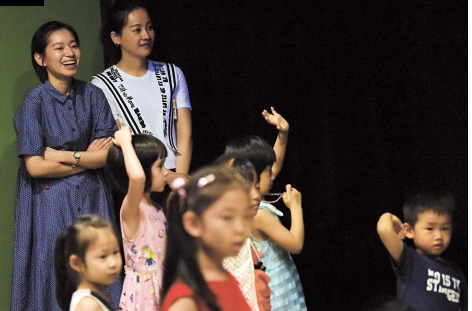 Theater director Lu Yisha (left) shares a laughter with the children audience when watching "The Solar System." [Shanghai Daily]
Young theater director Lu Yisha's latest offering, "The Solar System," a children's drama about the secrets of space, received acclaim from both audience and critics when it was presented in Shanghai last week. It is said to be China's first children's drama in the form of black light theater.
Lu, in her 20s, combined distinctive elements of black light theater with puppetry. Black light, a well-known theatrical performance style popular in the Czech Republic, is still new to Chinese audience.
It uses black curtains, a darkened stage, "black lighting"and fluorescent costumes to create stunning visual effects.
A lot of children became immersed in "The Solar System" and interacted with the characters, through which they also learned amazing facts about space.
Lu is a postgraduate student in theater and performance studies at King's College London. She used to study theater directing at Shanghai Theater Academy. Her mother, Wang Liping, is one of China's best-known screenwriters, whose credits include "My Beautiful Life" and "A Beautiful Daughter-in-Law Era."
It is Lu's first attempt at children's drama following her works "Handsome & Beautiful" (2012) and "Twelfth Night" (2016). She also directed short plays "Night of Potatoes" (2013) and "Love/Object" (2017).
Lu says a successful children's drama "should be created from the perspective of kids, who are curious and emotional. But a good and interesting story is always the foundation."
Q: What made you decide to blend black light with children's theater? How long did it take you to create the show?
A: We spent more than half a year on this production. To be honest, it came to me. My producer and I bumped into each other on the campus of Shanghai Theater Academy. He told me he was planning to do some children's theater in the form of black light and asked me if I was interested. I told him I would love to give it a try. And that's the whole story.
Q: During the creating process, what were the major challenges for you and your team?
A: I was lucky to have a group of wonderful actors in my team. The biggest challenge was perhaps writing something that small children would be willing to be attentive to for 50 minutes.
Another challenge was to design the props and puppets — to get the color right and the illuminating effect in the ultraviolet light right.
Our designers spent hours getting the right proportions of different paints. Every single prop in our performance was painted by hand. It was huge work for them.
Q: In your eyes, what's unique about this show? As the first domestic children's drama featuring black light, what do you think made it so popular among kids?
A: Black light show works like magic because you can't see the people who manipulate the props and puppets. So everything becomes alive and dynamic.
For "The Solar System," the blackness creates the perfect natural space environment like when you see stars shining in the sky at night. It offers mystery.
Q: You have directed several dramas that enjoyed positive responses from audiences and critics. What's the difference between directing a drama for adults and that for children?
A: It is funny that I don't see much difference between a production for adults and one for kids. The principles are similar. We have a story, some characters and dialogues.
It is always about how to tell a story. I guess children read the stage as adults do. Only they are simpler and more direct in expressing emotions.
I remember during a performance, when Jupiter was so sad that he didn't have any friend because of his huge scary storm eye, a kid shouted out, "I want to be your friend."
That was the best moment for us. It was like world peace was achieved.
Q: What do you think of the status quo of children's drama in China? What can Chinese directors learn from their Western counterparts?
A: I think children's theater is thriving in China. I have seen big-budget productions and also very small and smart ones.
Children's theater is always a team work. A director is like the manager and the team leader. His/her job doesn't change when it comes to children's theater. Maybe he/she has to be a bit more childish. I can't say I have known children very well, because I don't have any myself.
But as a director who has experienced young audiences, I feel the importance of simplicity, clarity and fun in a production for kids.
I think children's theater in the West is doing very well in being simple and honest. Some theater companies keep very good balance in story and form. They also have excellent actors who are so versatile.
Q: Is it a rewarding experience for you to study at King's College London?
A: The courses and the performances in London have opened my eyes.
As students, we are constantly challenged to define and redefine the meaning of theater — what is theater for and what can theater do? We are trained to look at theater as a representation of society and culture.
When you look at theater from this perspective, you also see beyond the physical space.
Yes, it is a rewarding experience.
Q: When did your affinity with theater begin? Is it a result of family influence? What have you learned from your mother?
A: My very first production was in university. A group of students and I put Jane Austin's "Pride and Prejudice" on stage.
Talking about my mom, I think she is an absolute genius. She is the master and expert in the screenwriting field. Also, she is very curious, intelligent and diligent.
I could never be at her level. My mom is a very loyal and kind friend in my life. She is very encouraging.
Most parents in the art industry are very reluctant to have their children start their career in the same field, you know. But she has been so supportive. Though the works we do are of two different kinds — hers is TV and film, mine is the stage — we have so much to talk about. I would ask her for advice in almost everything. She is amazing.
Q: What's your future study and career plan? After the success of tis children's drama, what are you going to show in your next theater production?
A: I plan to further my study in theater directing in London next year. In the meantime, I am going to redo "Twelfth Night" in Beijing next spring. I am very excited about that.
I think it is the interesting part of theater-related work. You never know what kind of theater, script and wonderful people you will encounter. It is always creative.
So I have my plans and at the same time keep myself open to any opportunity.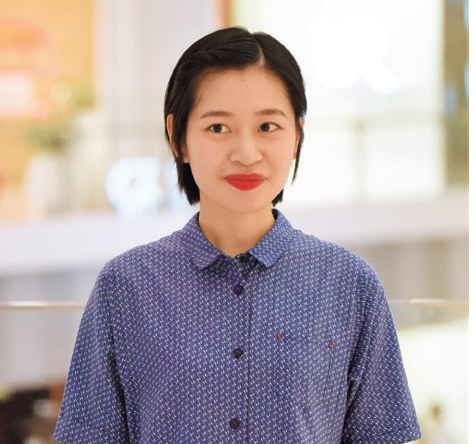 Lu Yisha [Shanghai Daily]
Black light theater "The Solar System" [Shanghai Daily]
(Source: Shanghai Daily)