Dai Hua (right) puts a yellow bracelet on a senior's hand. [Women of China]
A community policewoman from the Jiangdu District of Yangzhou, east China's Jiangsu Province, has developed several innovative ideas to help her better serve the public.
Dai Hua, who was honored as Model Women in Rendering Meritorious Services by the All-China Women's Federation (ACWF) in 2015 for making her community safe for 20 years, says she is more than just a peacekeeper.
Innovations on facilitating the public
To better facilitate services, a few years ago, she made several changes to the traditional community management system.
In 2013, she established a"mobile police room" with one desk and one sunshade besidethe entranceof communities. Whenever the residents need help, they know where they can go, as the mobile police room offers convenientservices.
In the same year, after dealing withsix cases of elderly people getting lost, Dai made a yellow bracelet which was printed with a number, a few words saying "Please help me contact my family" and their families' phone number.
So far, she has given away over 1,800 bracelets and no more elderly residents in the community have found themselves lost.
Furthermore, she started to help find missing persons through her police blog online in 2013 and 98 families benefited from her efforts.
Through her blog, a netizen called Li Enke found her father who had been lost 26 years ago.
The netizen appreciated her contributions and wrote under her blog, "Dai, you make the world beautiful."
Measures to improve safety awareness of the public
As a policewoman, Dai has her own way in dealing with people, which enables her to work efficiently as well.
She found out that residents more often than not failed to get the right card to contact the police when they needed help in an urgency.
Then she came up with the idea of printing the contact information and tips about security protections measures and warnings on daily necessities.
In the past five years, she has given away over 15,000 of her self-designed wall calendars printedwith her photo and the contacts of the police team.
In 2014, she established a community-level newspaper to publicize different needs and typical cases.
In addition, she still keeps the habit of sending preventative and warning messages to locals every week and so far she has sent over 1.8 million texts.
Free help for anyone in need
Dai has given priority to laid-off and unemployed workers and helps them solve practical difficulties in their daily lives.
Whenever she has free time, she visit seniors who live alone, as well impoverished families, with her husband who is a doctor.
In 2013, she got to know a lonely manwho has been physically impaired for over 50 years, suffering from many diseases.
She began to visit him more often and has cared for him like her father since then. She even published proposals online to find more help for the man.
He appreciated her help, saying: "It is Dai who gives me a better life today."
Last year, Dai was elected as one of the Top 10 People Who Move Residents in Jiangsu.
Last May, she was honored as the National Special Grade Outstanding Police Officer.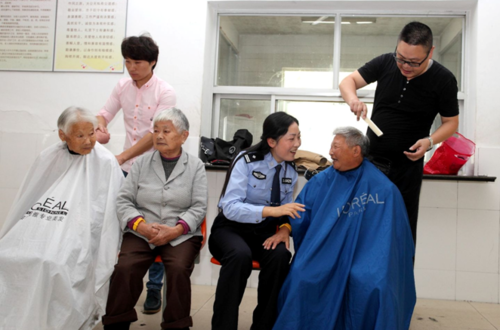 Dai Hua (middle) talks with a senior person.[Women Voice]
Dai Hua (in police uniform) hands out leaflets. [Women Voice]
(Source: Women Voice/Translated and edited by Women of China)