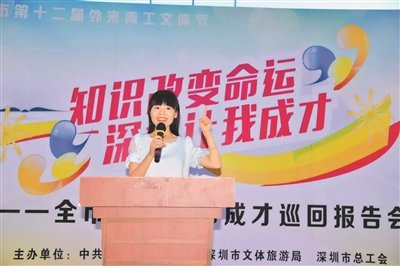 Zhang Chunli tells her story in a lecture. [Shenzhen Special Zone Daily]
A young woman from a mountainous family in east China's Jiangxi Province has grown from a junior employee to managerial staff at the workplace in the past decade whilst completing her part-time academic studies.
Zhang Chunli was born into an impoverished family in Poyang County in Jiangxi and she has three younger brothers as well as a sister.
Zhang received her admission letter to Jiangxi Normal University in the summer of 2004 when she was 18 years old. However, her family had no more money to pay her tuition.
Her father, a long-distance freight driver, gave much money as compensation to people injured in a traffic accident in 2002 where he himself also suffered an injury. Moreover, her mother was found with a liver complaint in a critical stage in 2004.
The poverty-stricken family had actually accumulated huge debts before she attended the national college entrance examination, or Gaokao, that year. As the oldest child in her family, Zhang chose to give up the chance to study in a higher institute, went to Shenzhen, a metropolis in south China's Guangdong Province, and found a job at Shenzhen Vimicro Corporation (a video technology supplier serving the explosive market for networked video applications).
Zhang quickly mastered the techniques and skills required in her position and became the first one of 20 newly recruited female workers to be recognized as a full member there. She has thus won recognition from her colleagues for her competence in learning.
One year later, Zhang was transferred from her initial post in the assembly line to the department of human resources, where she was in charge of administrative affairs. She had no experience when her superior delegated her the power in 2008 to revise the firm's labor contract and its rules related to employees' benefits and bonuses. Nevertheless, she went ahead with the task and worked until late at night to prepare the necessary documents.
Her final plan was unanimously approved by all members at the Workers' Congress and produced a positive outcome during the process of implementation.
In the meantime, Zhang was admitted into Shenzhen University's Chinese language major with a junior degree when she passed the National College Entrance Test for Self-taught Adults in September 2005. Three years later, she registered herself as an undergraduate student in the major of English language in the same university. Right now, she is continuing her academic studies for a master's degree in the major of public management at Tsinghua University.
She said that her academic studies in those years greatly enhanced her competence in her daily work.
Furthermore, Zhang has been preoccupied with charitable work in her off-duty time. In addition to providing professional guidance to the management of social entities reserved for the young, she has often organized her classmates to assist teenage students from impoverished families in the completion of their academic studies.
(Source: Shenzhen Special Zone Daily& China Youth Daily/Translated and edited by Women of China)