Chen Lele cleans the name board of a bus. [Youth.cn]
Just like the meaning of her name, Chen Lele has brought joy to countless passengers with her sincere service over the past six years.
The 24-year-old bus conductor from the city of Qingdao in east China's Shandong Province is a staff member of the Qingdao Public Transportation Group.
Chen was among 20 winners of the China Youth May 4th Medal announced earlier this month.
"I'll bring happiness and delight to passengers along their way," said the female role model in a firm and confident voice.
An Outstanding Student
Chen experienced many hardships in childhood.
Aside from tending to her mother who was born with mental disabilities, she also took part-time jobs at a young age such as handing out leaflets and working at sales promotions to cover the family's daily expenses due to her father's poor health condition.
Although achieving the highest scores in her junior high school final tests, she gave up the opportunity of attending a senior high school and opted for a local vocational institution so that she would graduate as soon as possible and find a job to earn a living.
Whilst in the institution, she was granted a state scholarship and was recommended as a provincial role-model student in 2011.
A Role-Model Worker
Despite her family's misfortune, Chen always faces life optimistically and works with great dedication.
To improve her service, she learned skills and etiquette from experienced workers and taught herself English and sign language.
She won the championships at her company's technical contests many times and was rated a role-model worker.
To meet the different demands of passengers, she prepared a variety of daily necessities such as medicine, maps, Band-Aids and umbrellas.
Due to her outstanding performance, the Bus No. 106 where she worked was renamed as "Lele Carriage"
A Living Map
Bus No. 106 runs a single distance of 54 kilometers between the city's Laoshan Mountain and its urban areas, where 64 stops were set up.
It serves as an important means for residents of mountainous villages in the region.
Chen volunteered to visit the mountains to familiarize herself with the long and complicated roads and conditions of each village nearby.
She then made a simple village layout map for locals to make it more convenient for them to take the bus.
Moreover she compiled An Introduction of Tourism Spots Along Line 106 after doing online research and reading guidebooks.
In addition to developed spots, Laoshan Mountain also has plenty of other natural scenery such as tea and fruit farms.
To let tourists better enjoy its beauty, she walked along the roads during her spare time and explored new routes for mountain climbing.
She then introduced these routes to tourists during her service, many of whom wrote down her number and consulted her before their visit.
A Postwoman in the Mountains
Due to the long distance, villagers have to spend over four hours on bus to reach the urban area.
Therefore Chen set up the Passengers' Delivery Contact Box, volunteering to offer them free postal services.
When they want to buy things from or send things to the city, they just need to write down the relevant information on a card and put it in the box.
So far she has handled nearly 600 articles such as medicine, books and even identity cards and bankbooks.
Captain of a Volunteer Service Team
In 2008, Chen began to visit elderly people with physical impairments at a local nursing home, giving them massage, doing the cleaning and chatting with them.
She also built regular assistance relations with an 80-year-old childless couple and an impoverished girl in a local community.
Inspired by Chen, her company set up a volunteer service team and named her its captain.
Under her leadership, the team is extending love and warmth to more and more people.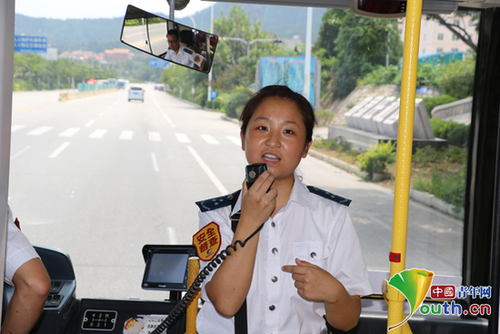 Chen Lele introduces scenic spots along the roads. [Youth.cn]
Chen Lele introduces the contact box she made. [Youth.cn]
Chen Lele helps a passenger put her belongings on the bus. [Youth.cn]
Chen Lele teaches children traffic safety knowledge. [Youth.cn]
(Source: Qilu Evening News/Translated and edited by Women of China)