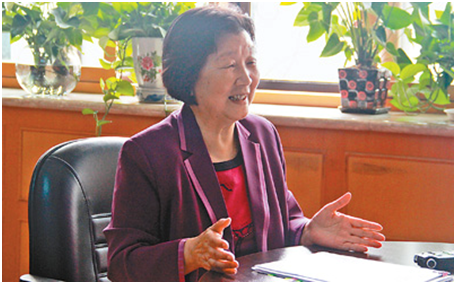 Yang Fuqing [People's Daily]
Yang Fuqing always thought she wanted to become a famous mathematician. But, to develop China's first domestically-produced computer operating system, she changed her career direction at 18.
Yang, 84, now serves as a professor at Peking University's School of Electronics Engineering and Computer Science, where she is known as the "Madame Curie of Chinese software" for her outstanding achievements.
Each of the major turns in Yang's life reflected the course of China's sci-tech development.
She started as the nation's first post-graduate to major in computational mathematics.
Later, she developed the country's first computer operating system (Computer 150 OS) capable of 1 million calculations per second. Notably, she also produced the country's first mainframe operating system (Computer 240 OS).
"As a Party member, it's my wish to do what my country needs," she said.
Childhood Experience
Yang was born into a family of intellectuals in the city of Wuxi in east China's Jiangsu Province. She hardly went outside of her home during childhood due to the social instability.
On April 23, 1949, when she was in her first year of a senior high school, the city was liberated by the Communist Party of China (CPC).
From that day forward, many great changes would take place in her life. She dared to take part in street activities celebrating the liberation without concern for her safety.
"At that time, I felt a kind of happiness of immersing in the sunshine of the CPC," she recalled.
"Although I was young and my cognition then was still quite obscure in many aspects, good images of Party members had already taken root in my heart."
Studying Abroad
In the autumn of 1951 Yang, then 18, was admitted to Tsinghua University's mathematics department. The next year, she transferred to the mathematics and mechanics department of Peking University.
In 1955, after continuing her postgraduate study at the university, Yang was involved in the establishing of China's first computational mathematics major.
In the beginning, Yang had only a Soviet textbook and a hand-powered calculator to use. As the only post-graduate majoring in the discipline, she reported her study results to her teachers every week.
In early 1950s, China was in urgent need of developing its own computer. It decided to send its first delegation from the field of computer sciences to the Soviet Union in 1957 to learn computer technology and programming.
"There is no environment to cultivate you here in China. You should join the overseas delegation," said Yang's professor who helped her obtain the opportunity.
However, she hesitated. "From basic mathematics to computational mathematics, and to programming design, am I getting further and further from becoming a famous mathematician?" she thought.
Her hesitation disappeared when she realized her country needed her and thought of her duty as a CPC member. "I trust my country's choice. I'll do my best to do what it needs!" she decided.
Yang first learned programming in the Soviet Academy of Sciences and entered Moscow University to study programming automation, gradually becoming one of China's first generation of computer software experts.
Shortly after her return, she was told that she would soon be assigned to the Soviet Union again.
At that time, a joint institute for nuclear physics research was set up by 12 socialist nations and was in urgent need of a staff member who knew about programming.
In contrast to her first study visit, Yang was confronted with quite a different situation this time.
In addition to the deteriorated relations between China and Soviet Union, her son was just one-year-old.
"I'll go if my country needs me," she announced to school leaders at Peking University.
"Both my overseas study experiences allowed me to realize that as a Party member, I should make due contributions to my country in the field of computer science," she said when recalling her choice many years later.
Conducting Research
Yang is among the first generation computer scientists and a pioneer of software engineering research and practices in China.
In the 1960s due to the development of China's natural resources industry, advanced computers were urgently needed to process massive amounts of data from geological exploration.
In the face of tight international restrictions on high-tech imports to China, Peking University was entrusted with the task of developing the Computer 150 operating system, and Yang was responsible for its relevant research.
At that time, the field was still almost non-existent in the country. Except her, nobody else in her team had seen a real computer. During that period, she was faced with unprecedented challenges and worked day and night to fulfill her task on time.
One morning in 1973, East Is Red – a popular Chinese song in those days – announced the arrival of China's first multi-channel electronic device, Computer 150.
Before Yang could rest, she was put in charge of another challenging mission – to design the operating system of the next generation of machine.
To fulfill the mission, she worked hard for countless days and nights. However, just as her work achieved some progress, she had to suspend the project due to various reasons.
After the 3rd plenary session of the 11th CPC Central Committee, was held in December 1978, she reorganized the project team for Computer 240 OS development and started from scratch with a new method.
The OS they developed was China's first mainframe operating system. "It was the first of its kind, even in the world," she said.
Yang's story has been hailed a symbol of how an elderly Party member can express her loyalty to her country and the causes of the CPC.