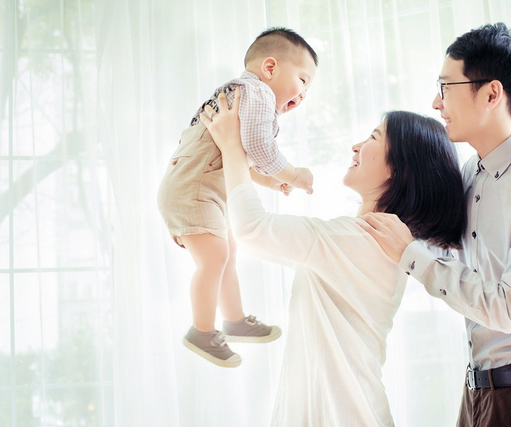 Cherry Gu with her husband and 13-month-old son [Shanghai Daily]

Happy Mother's Day to a new generation of Chinese mums who were born after 1990 into a generation defined by the Internet, spoiled "little emperors and princesses," video game addiction, eating out and free-wheeling spirits. Now they are taking on duties as parents and redefining that role in China.
Cindy Chen
Cindy Chen, 27, was raised a "princess" in a home with no siblings. In her first two years of marriage, she hardly did any housework because she never had to do any growing up. But since the birth of a son last year, Chen has had to change her way of thinking.
"It had never occurred to me that I would have to manage cooking and taking care of a child at the same time," Chen says. "But that's how my life has evolved."
Where she once went online to follow the latest fashion trends, Chen now downloads child-rearing apps and participates in WeChat forums about motherhood.
Access to a glut of outside information on child-rearing is a big departure from traditional motherhood. In the past, young women with new babies simply followed the advice of mothers, mothers-in-law and grandmothers on how to raise children. What one generation did was passed down to the next without any questioning.
Those were the days when families had multiple children to raise, instead of the single-child generation now moving into motherhood. Those were the days when many women stayed home or, if they worked, toted their babies with them because they couldn't afford nannies. Most of today's young mothers are determined to meld career and home, often with outside helpers.
According to a Baidu online survey, 37 percent of post-1990s mothers are rearing their children on advice they get online, from friends, in books and magazines and from doctors. About 35 percent said they place the most trust in professional advice, while only 7 percent said they rely on the experience of the older generation.
Carol Xiao resumed her fitness regime at a gym one month after giving birth, ignoring her mother-in-law's admonition that exercise could affect breast milk production.
"There is no conflict between the gym and breast-feeding," says Xiao. "I believe that a healthy mother can better breast feed a baby."
Sociologist Gu Xiaoming says he is confident that post-1990s mothers will be good parents.
"Nobody is born mature," says Gu. "The post-1990s generation needs time to grow, just as we all did. Given sufficient trust and space, they may even do better than we did, thanks to the abundant information and sharing of experiences online."
Cherry Gu
27, with a 13-month-old son
Self-employed as a small business owner, Cherry Gu figures the lessons she learned raising her pet dog would help her raise a child.
"How hard could it be?" she asks herself. "And even if it did turn out to be hard, I could hire a nanny and leave the baby to a professional. But that was all a pipe dream. Once you hold your baby in your arms, you don't want to part with it."
Gu frequently listens to child-rearing lectures from professionals, both online and offline. Like most new mothers, she is bombarded with kindly advice from parents and friends.
"It is not that I don't trust what other people say," says Gu. "But when it comes to the health and safety of my baby, I cannot be too cautious. There are things you can learn only after you have become a parent yourself."
Gu has not given up her love of travel. She first took her son on day trips when he was 8 months old. His first overseas trip was to Japan just before his first birthday. Travel, she says, broadens the experience, and it's never too young to start.
"As the Chinese saying goes, 'The man who travels far knows more'," says Gu. "I want to teach my son to learn about the world we live."