Zhong Qian [China Women's News]
A young woman paralyzed by severe arthritis since the age of 16 has inspired more than 4,000 people by offering volunteer mental counseling over the past eight years.
Zhong Qian from the city of Jinan in east China's Shandong Province is a local volunteer. Due to the distortion of her joints she can now only move one finger.
In 2001, just before she took the nation's senior high-school entrance exams, she was diagnosed with the disease.
Given her condition, her parents tried to persuade her to give up the exam but she insisted on preparing for it. Upon finishing the three-day tests she was hospitalized.
"I didn't expect this illness to develop so quickly. I lost 35 kilos in total," she recalled. Since then she has never returned to school as a student.
In 2008, while Zhong showed some recovery, her father was struck by a sudden stroke which confined him to bed.
As her mother was overwhelmed with heavy burden, local social workers came for assistance, not only donating money and materials but helping tend to the daily life of Zhong and her father.
Deeply touched by social care and warmth, she also came up with the idea of practicing charity.
"I only cared about my own illness and pain in the past. When I saw what the volunteers did for my family I suddenly thought maybe I could also do something for others," she said.
In 2008, Zhong began to offer counseling through a phone hotline, email and Tencent QQ, a popular internet chat tool, encouraging teenagers and young adults by citing her own stories.
So far she has persuaded nearly 100 youth to give up their suicidal tendencies.
In 2012, she joined a local volunteer team which solicits donations for the treatment of hearing-impaired children, recording and spreading these youngsters' information via computer.
Although writing is difficult for her she has managed to write millions of words in outstanding articles, many of which have received acclaim from literary celebrities.
Moreover, she has compiled 39 proposals. Of them, many have been taken to the nation's "Two Sessions" meetings by national political advisers from her region.
In late 2016, she was diagnosed with another lesion which made her joint distortion even more severe.
"I dare not to think what will happen tomorrow. But as long as I'm alive I'll try my best to do things useful to society and devote my limited life to the everlasting charity cause without any regret," she concluded.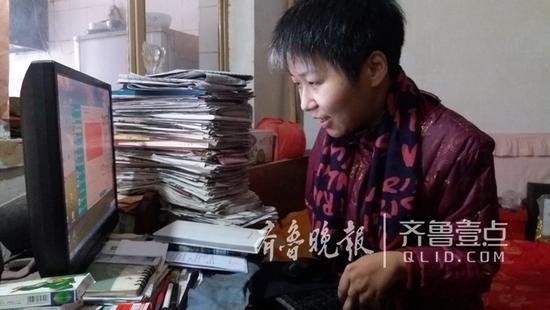 Zhong Qian gives counseling with computer. [Qilu Evening News]
(Source: Qilu Evening News/Translated and edited by Women of China)