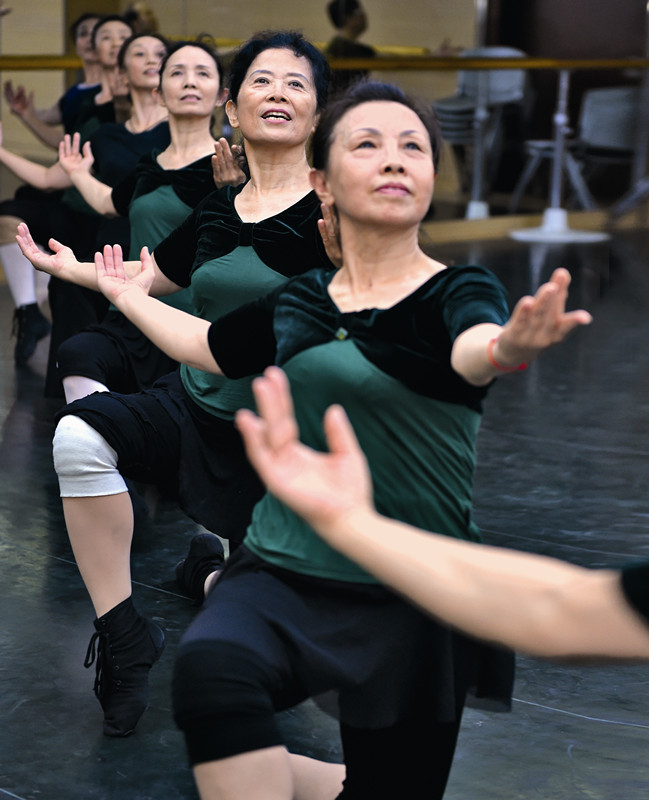 Many elderly and middle-aged Chinese women have developed an interest in dancing. [Provided by Photomall]
Many elderly and middle-aged Chinese women have developed an interest in dancing — and dancing has become a major part of their lives. They live healthy lifestyles, and their dance steps and dance postures move audiences. The women are living examples of the line in Secret Love in Peach Blossom Land, directed by acclaimed Chinese playwright Stan Lai, in which the actor states, "We are old, but we are still beautiful." Each dancer has a young, and beautiful, heart.
Exercise, to Lifestyle
The second Beijing New Dance Festival opened in Chaoyang Cultural Center, in Beijing, on August 24. More than 50 dancers from seven countries, including China, Canada, Hungary and the United States, staged 18 shows during the week-long festival.
Dancers with Beijing-based Dama Contemporary Dance Troupe debuted during the festival's opening ceremony. Their dance, titled Dancing with Hearts, was a hit. Zhao Xi, founder and art director of the festival, established the dance troupe in June. The average age of the troupe's dancers is 57.
"We hope contemporary dance will become part of ordinary people's lives. This June, the Chaoyang Cultural Center issued a notice to recruit elderly and middle-aged women to join the dance troupe. About 150 people applied, and we chose 30 people from among them," Zhao says.
"It was not easy to choose elderly and middle-aged dancers. I mainly considered whether the applicants were able to perform in an unrestricted manner. Different from ballet and classic dances, contemporary dance requires dancers to perform in an open and free manner. That is the basic standard for me," Zhao adds.
The members began dancing as a form of exercise in their spare time, but they soon fell in love with contemporary dance. Retired worker Peng Huanru, 60, is one of the troupe's members. She says she feels young — again — when she is on the stage.
"I knew nothing about contemporary dance before I joined the troupe. We practice twice a week. I feel tired sometimes, and it is a bit hard for me to crawl and roll on the ground. However, dancing makes me feel confident and beautiful. Now, I feel I'm a real star," Peng says.
She says she was somewhat embarrassed during the first day of training. "Our teacher asked us to stare at each other for one minute. Many of us averted each others' eyes, and some of us couldn't help but laugh," Peng recalls.
"During one training class, our teacher asked us to lean against each other, in pairs. The rule was that when one of us moved, the other should move … and we couldn't separate from each other … In the beginning, I couldn't finish the exercise. When my partner moved, I failed to move with her, and I almost fell to the ground. I did well after many practices," Peng adds.
The teacher also asked the recruits to crawl like babies. "When I crawled … I felt like I was like a little blade of grass swaying in the breeze. I loved that feeling. I think I am still in the prime of my life," Peng says.
Diligent Granny
Wang Xinling, 65, is a dancer with the ballet troupe under Tianjin Seniors' University, in North China's Tianjin. She has been a ballerina for nine years. Her teachers, and other members of the troupe, refer to her as "the most diligent ballet granny."
Wang was a civil servant, who worked in a public security bureau, before she retired a decade ago. She was depressed after she retired. However, she felt like she had begun a new chapter in her life after she joined the ballet troupe.
When she began practicing ballet moves, some of the troupe's members doubted whether she would be able to dance well. In their eyes, Wang was still a serious police officer, despite the fact she had retired. Wang practiced hard to become a good ballet dancer. Normally, the troupe's members attended at least one ballet class a week. Wang attended six classes a week.
At the age of 61, she became the troupe's first member to be able to stand and dance on tiptoes. Three of her toenails were broken during repeated practices over time.
Wang, and other members, often rehearsed until nearly 8 p.m. each day. The average age of the troupe's dancers is 61. The youngest dancer is 52, and the oldest dancer is 69. The troupe has attended several competitions, and it has received several awards for its dance, titled Grannies and Grandpas Love Ballet.
In addition to dancing, Wang takes care of her bedridden mother, who has Alzheimer's. Wang likes to chat with her mother after she returns home from practice. "Ballet has changed who I am. I will keep dancing as long as I can," Wang says.
Forever Young
Every Tuesday afternoon, a group of elderly women, with their hair worn in buns, practices ballet dancing in a training hall in Shengli Street Community, in Hefei, capital of East China's Anhui Province. The women look professional as they stand on their tiptoes, and as they stretch their legs. Most people would have a hard time believing the average age of the dancers is about 60, and that most of the dancers have grandchildren.
Zhang Shouhua, 73, is one of the troupe's members. She has been a ballerina for 10 years. "Every time the music starts, and every time I stand on my tiptoes, I feel like I am closer to my dream, and I am happier," she says.
Zhang was an accountant before her retirement. She developed her interest in ballet in 2006. However, she worried about whether she could become a good ballet dancer. One of her friends, who was a dancer with the troupe, encouraged her. "Take it easy. We have professional teachers to teach us. You can make it," her friend told Zhang.
However, Zhang's two daughters disagreed at first. They worried Zhang would hurt herself during training. They reminded her to be careful, and to not get hurt, every time Zhang left home to attend practice.
Practicing ballet is painstaking. In the beginning, Zhang had a rough time, as she had never danced before. Her feet were blistered, and her toenails were often broken. But she never complained. "Who says elderly people can't dance? I want to prove that elderly people can also dance well," Zhang says.
Zhang keeps a diary. She likes to write interesting stories about the troupe in her notebook. She also records the awards the troupe wins. During the past decade, the troupe's members have participated in about 100 competitions, including community dance contests and national and international competitions.
In October 2011, the troupe received a special award for its dance, titled Dream of the Sunset Glow, during the fourth national fitness and dance competition, in Hefei. Some 368 elderly and middle-aged dancers from 18 provinces participated in the competition.
The troupe has a good reputation in Hefei. This year, more elderly women have joined the troupe to practice ballet. They say they are happier and more confident.
"Dancing is a great source of joy, and it gives us passion. It is like your dreams come true … Let us dance till we are too old to move our bodies. Elderly people should have dreams, and they should live colorful lives. I hope I will pass on my happiness to more people," Zhang says.
Peng Huanru (second from left) attends a rehearsal. [Provided by Photomall]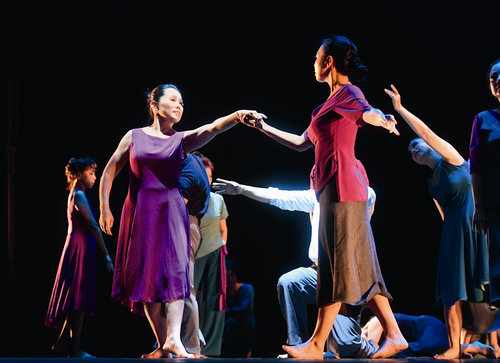 Peng Huanru (first from left, front row) dances during the opening ceremony of the second Beijing New Dance Festival, at Chaoyang Cultural Center, in Beijing, on August 24. [Provided by Photomall]
Wang Xinling practices. [Provided by Photomall]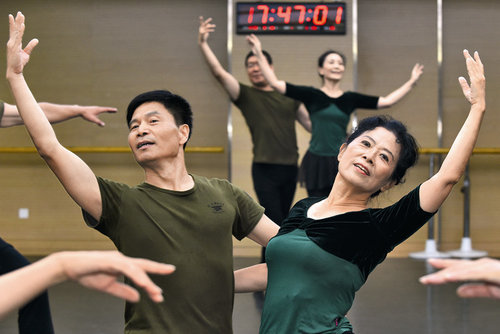 Wang Xinling (right) performs in the dance, titled Grannies and Grandpas Love Ballet. [Provided by Photomall]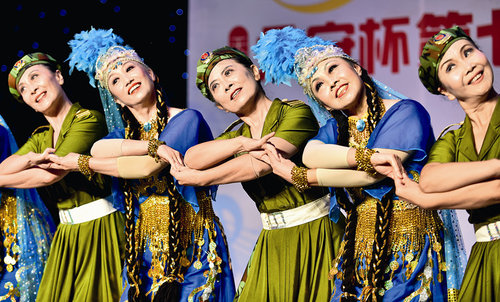 Wang Xinling (middle) performs in the dance, titled Harvest Time. [Provided by Photomall]
Zhang Shouhua (left) provides instruction during a dance class. [Provided by Photomall]
Zhang Shouhua (left) practices. [Provided by Photomall]
(Source: Women of China English Monthly December 2016 Issue)