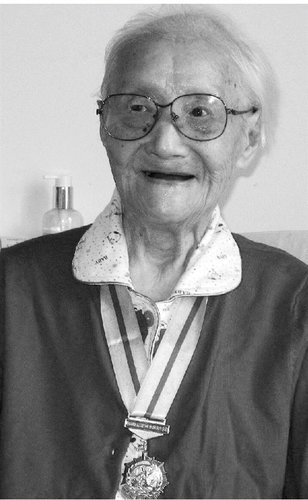 Huang Mulan [qjwb.zjol.com.cn]
A 110-year-old former secret agent for the Communist Party of China, who has been hailed as an "Encyclopedia of the CPC," passed away on Tuesday.
Huang Mulan from the city of Hangzhou in east China's Zhejiang Province had witnessed the Party's former struggles with the Kuomintang and the founding of the New China.
Huang had gone through many ups and downs throughout her life, said officials.
She once said that optimism is the secret to her longevity. In CPC history, she is closely tied to its Central Intelligence Agency, her legendary stories being captured in several books, films and TV drama series.
At the Zhejiang Hospital, where Huang spent her last three years, those around commonly got the impression that the woman was simply "a tidy old lady who likes playing mahjong when her spirits are good."
Even the doctors and nurses tending to her had no idea about "Huang Mulan's" real identity, because her registered name in the hospital was actually "Huang Dinghui."
The ward room where Huang stayed is little different from others on the same storey – a 20 square meters space, equipped with two beds, a closet, a TV and a washroom.
The only special sign – if there is any – may be a piece of A4 paper pasted on her door, which says "SUPER ADVANCED AGE, LIMITED VISITING, PROTECTIVE QUARANTINE" in Chinese.
"When she first arrived, she was still in good health and could chat with us now and then. In the past year, she seldom had such talks with us," said a nurse at the hospital.
According to the staff member, Huang was unlike other elderly patients, who pay little attention of their appearance and look somewhat untidy. Even in the days when her health condition was not that good, when encountering acquaintance, she still greeted them with a nodding smile.
"Obviously, she was a person with good manners," the nurse added.
Huang's nursing worker had taken care of her for many years. Nevertheless, other patients often saw Huang's family visiting her and tending to her at her ward.
"It can be seen from their visiting frequency that her family members cared for her very much," said a patient.
"Her daughter said that her blood pressure was quite low and her condition was not good, so we all made some mental preparation."
On January 19, Huang's illness deteriorated so she was transferred to the hospital's ICU ward. On Tuesday morning, having been rescued for 19 days, she left the world for good, staff reported.
Huang Mulan in her youth [qjwb.zjol.com.cn]
(Source: qjwb.zjol.com.cn/Translated and edited by Women of China)