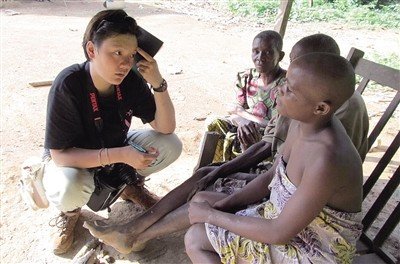 Peng does research in local tribe culture in Cameroon. [cqcb.com]
Peng Yujie, a female ethnologist from China who is doing a doctorate at Kyoto University in Japan, has just completed an eight year research study into Pygmy culture in West Africa, where she made good friends with local residents.
Peng was a strait "A" student at school. Besides her talents in physics, she was mostly interested in languages.
She started learning Japanese at an early age, when other students were concentrating on improving their English. She later won a top physics prize in junior high school, and was admitted into one of the leading high schools in her hometown in southwest China's Chongqing Municipality.
She was admitted into Beijing Foreign Studies University (BFSU) in 2004. In the third grade of university, she planned to further her studies in Japan. She applied for a master's degree at Kyoto University, where she was readily accepted.
"In Japan, all postgraduates have to pass a half-year test to get approval to study for a master's degree," said Peng.
During the first six months, apart from preparing for her exam, Peng had to earn money by doing part-time jobs. She became a laundry assistant, then a supermarket saleswoman and even a cargo remover.
In April 2009, Peng was successfully enrolled in the Research Institute of the Asian and African Region in Kyoto University.
In the summer of 2010, Peng got a chance to travel to Africa. Luggage prepared, she went alone to Cameroon, West Africa, and settled in a village in a tropical rainforest in the eastern part of the country.
The village, which is some 80 kilometers from the nearest town, has no more than 200 residents. Moreover, given the rugged road, she had to ride a motorbike every time to get in and out.
She lived with the Pygmy people who have a primitive way of life in the jungle. "An average Pygmy male is around 150 centimeters tall whilst most women are around 140 centimeters," said Peng. "They're very friendly and peace-loving."
Peng had no friends when she first arrived with the tribe. In addition to language barriers, she could not adapt to the local lifestyle. Shortly, she fell ill.
In terms of diet, she had to eat whatever local people ate, from weeds to plantain, antelopes and rats. What she found most difficult was eating insects. "I got an allergy as soon as I tried termites for the first time, which led me to vomit and get diarrhea," said Peng.
At first, she did not know what to do with her day. After one week adapting to the tough conditions, she started talking with local people.
During the communication, she found out that every Pygmy has a special kind of tattoo. It soon caught her attention. She then made up her mind to do some research on the distinctive body art. "I didn't know that for them, it was a form of communication, until I found it out during my research," said Peng.
Later, she successively visited the Pygmy village four times, in 2011, 2013 and 2014. Gradually, she became familiar to villagers of the tribe and had even had local "mom and dad", who took good care of her during the time.
"Little by little, I learned the local language, finished my studies and became close friends with local people," said Peng. "They're extremely positive, which has been a great influence on me."
After eight years' study, Peng is about to graduate from her doctorate degree this year. "I miss Chongqing and I want to do some research on my hometown culture now," said Peng.
(Source: cqcb.com/Translated and edited by Women of China)