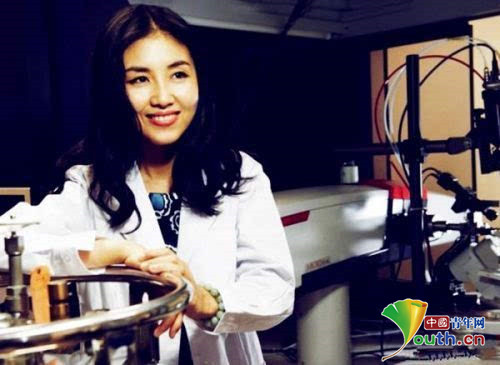 Yan Nieng, a biochemist and professor of Tsinghua University in Beijing [Youth.cn]
A 39-year-old female biochemist from Beijing had made a series of important scientific achievements over the past 10 years, gaining recognition from both domestic and foreign academic circles.
Yan Nieng is a professor at the School of Medicine of Tsinghua University, where she leads a youthful research team whose members are still mostly in their 20s.
However, it was just such a talented team that, under Yan's leadership, solved a puzzle in only six months that had previously troubled scientists for more than half a century.
Her continuous contributions have won her many awards including an International Young Scientist Award and the Raymond & Beverly Sackler International Prize in Biophysics.
Becoming a Scientist
After earning an undergraduate degree in biology from Tsinghua University in 2000, Yan began her seven-year-long doctoral and postdoctoral study at the Department of Molecular Biology at Princeton University in the States.
Later, in 2007, when Yan returned home to visit her family, she received an invitation from Zhao Nanming, who at that time was director of the Department of Biology at her Alma Mater Tsinghua.
So, she began to teach at the university and set up her own laboratory. From installing an experimental lab table to teaching students to conduct experiments, Yan started from scratch. In the first half year, she was "on the verge of going crazy," in her own words.
But her lab soon got on track, producing continuous research results that amazed her counterparts at home and abroad.
Yan mainly focused on studying the structure and mechanism of membrane proteins which play an essential role in basic physiological processes. Her mostly prominent work describes a glucose transport protein and a sodium channel.
In 2010, when Tsinghua hired an international appraisal team to evaluate its biomedical research direction, Yan left a deep impression on these experts. "In five to 10 years, she will become an example to outstanding female youth scientists," one commented.
Since Yan established her laboratory, she has issued 42 theses, of which 13 were published by top international academic journals, including Nature, Science and Cell, with Yan as their correspondence author. In addition, her research results have been selected for the annual Top 10 Science Advances twice.
"China attaches more and more importance to the research of fundamental science, in which its investment has risen sharply for many consecutive years," she stated.
Yan believes that economic development decides how rich China is while scientific and technological growth defines how strong it is.
"I think the most fundamental responsibility and mission of Chinese scientists is to make the country's scientific strength match its economy and its research fruits exert an influence on the world," she added.
Yan said that her choice in the very beginning was "completely right" and she thought so all along the way.
Creating History
At 10:30 p.m. on January 17, 2014, when New Year was approaching, the campus of Tsinghua University was quiet. However, its Structural Biology Center was still ablaze with light.
Two days previously, Yan's research team had finally produced a high-quality crystal of a glucose transport protein, which was put into a low-temperature container and sent to a synchrotron radiation laboratory in Shanghai.
All the team members were tense and nervously waiting for high-quality data to be sent back. They had worked on the relevant research for over two years and this was the last juncture.
Suddenly, a rapid knock interrupted Yan's thoughts. She opened the door of her office, finding one of her post-doctoral students waiting outside.
"It's come out?" she asked overwhelmed with excitement.
"It's out!" the other answered.
The two exchanged a smile, rushing towards their laboratory.
At that moment, Yan's team had singled out the crystal structure of landmark human glucose transporter GLUT1, overcoming a scientific puzzle insoluble for 50 years and taking a crucial step in the course of cancer and diabetes treatment.
Believing in Intuition
"Many people think membrane proteins are difficult to study. Maybe it is because they were scared from the beginning," Yan said, adding that the highly dynamic nature of transport proteins filled lots of scientists with frustration.
"Since GLUT1 is hyperactive, let's find a method to cripple it," Yan thought in a reverse manner. She carried out hundreds of experiments to crystallize the protein, never giving up regardless of continuous failures.
But persistence did not equal foolhardiness. Yan spoke honestly that she did feel somewhat proud of the achievement. "Because it was gained step-by-step in accordance to logic rather than by 'screening'," she explained.
When asked about her opinion on the view that "Physical strength is the foundation of structural biological study while good luck is the key," Yan just laughed it off.
She said that in her early days at Princeton University, she often argued with her supervisor, unwilling to give up until she tried all the roads one by one. But it always turned out that the road her supervisor chose in the beginning was just the right one.
She gradually believed that this was a kind of "scientific intuition" developed by long-term accumulation of experience and rigorous analysis.
Therefore, when asked why her team managed to achieve such a success under a short term, she would rather contribute it to "feeling" rather than "luck."