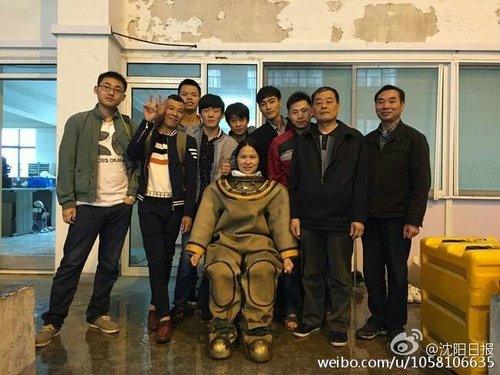 Yang Boya (front) and her colleagues [Shenyang Daily]
A woman from Yueqing, a city in east China's Zhejiang Province, recently became the first female engineering-certified diver in the country after she was granted a license by the profession's national authoritative body.
Yang Boya, who works at Yueqing City Blue Sky Emergency Rescue Center, had to undertake 628 training sessions on theory and practice before she passed the China Diving and Salvage Contractors Association (CDSCA) exam with flying colors.
Originally called Yang Saiqin, the adventurous woman was a rescue service volunteer for five years, providing various logistical support including answering emergency calls, dispatching rescuing personnel and managing equipment.
"Sometimes when there was a lack of labor, I volunteered to help out in the field. But my proposal was declined in most cases," Yang said.
Yang told journalists that her team often carries out rescue work in water, where the complicated environment increases the difficulty of their work. So, she came up with the idea of learning to dive.
She started out with recreational diving and got an open water diver certification issued by the Professional Association of Diving Instructors (PADI).
Later, after Yang learned that such a certification failed to qualify her for underwater operations in accordance with relevant international practices, she was determined to challenge herself and continued to learn engineering diving, which mainly applies to underwater rescue, disaster relief and salvage.
Due to the strict standards in divers' physical condition, engineering diving is a field dominated by men. But after Yang told her idea to leaders from Donghai Rescue Bureau of the Ministry of Transport, they showed strong support and recommended her to take training at CDSCA.
"They said that maybe more and more females would follow my suit and join the work," Yang stated.
During her endeavor, the biggest difficulty Yang encountered was getting adjusted to the deep-water environment.
"It's pitch black at depths below 20 meters, and I could hardly see my fingers. The most important thing was to overcome my fear," she added.
"Sometimes, we don't know what our feet will touch or stand on. If we get panic, we are likely to suffer from oxygen supply deficiency and drown."
In addition, Yang needed to carry 35 kilograms of equipment and bear low temperatures, which is not an easy job for all trainees.
"Several of the CDSCA training sessions coincided with my period. In the first few months, I caught cold repeatedly. Later, I got well after taking traditional Chinese medicine for some time."
Yang revealed that engineering diving was indeed more difficult for women, and hoped that she could contribute her own effort during future rescue work after getting the certification.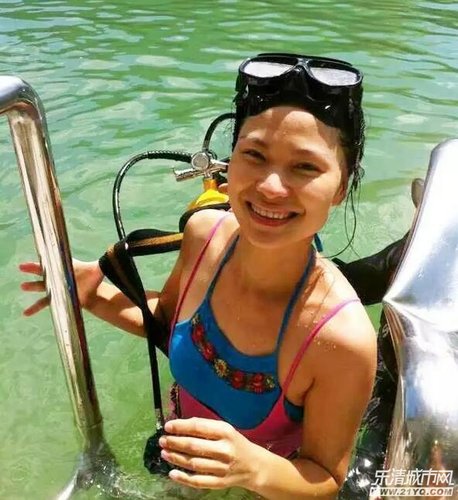 Yang Boya [21yq.com]
Yang Boya prepares to go under water. [Shengyang Daily]
Yang Boya prepares to go under water. [Shengyang Daily]
Yang Boya's diver certification [Shengyang Daily]
(Source: zjol.com.cn/Translated and edited by Women of China)