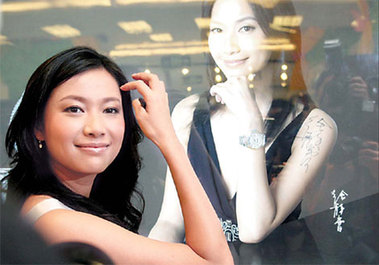 Xu Jinglei poses in front of a picture of herself. Liu Jiang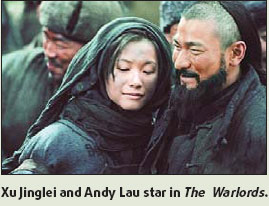 In Chinese, Hua Ping, literally a flower vase, is used to refer to an actress who is beautiful but empty. Xu Jinglei is supposed to fit the Hua Ping code: 170cm tall, 105 pounds, sweet smile, and neighborhood girl looks - whether dressed in a black Armani outfit or a plain pair of jeans and shirt.
Although Chinese audiences were enthralled with her fresh beauty, they mercilessly taunted her after her debut in director Zhang Yang's 1997 film Spicy Love Soup and some TV series during the 1990s.
Xu was referred to as one of the "Four Film Queens in China" along with Zhao Wei, Zhang Ziyi and Zhou Xun. "She can only smile in front of the camera", said her critics.
But the caustic remarks soon abated as Xu's career took off. In five years, the actress has donned many hats - as a movie director with three works under her belt, a blog writer with the most clicks in China and the world, and as editor-in-chief of an online magazine, Kai La.
However, these changes were not all planned. Xu, 34, says change is in her personality.
"I wanted to be an actress after I graduated in 1996. However, doing the same kind of roles soon bored me and I wanted to try out something new. I am interested in many things and am not afraid of trying them out."
Xu's father wanted her to be a calligraphy master but Xu applied instead to the Beijing Film Academy. She rose to fame with her TV series, when she was just 21.
In 2002, she finished her first film as a director, My Father and I, which explored the subtle relationship between father and daughter. Indeed, it was her popularity as a TV actor that paved the way for her becoming a movie director. Chinese film directors Ye Daying, Jiang Wen and Zhang Yuan not only acted in her film but also contributed their talents in directing. Xu says she learned a lot from them and is grateful for that.
With her second film, A Letter from an Unknown Woman, in 2004, an adaptation of Austrian writer Stefan Zweig's story of the same title, Xu won the best director award at the 2004 San Sebastian International Film Festival in Spain. She had now established her talent as a director but the ambitious woman wanted more.
In her third film, Dreams May Come, Xu had a go at some innovative filmmaking. The whole 120-minute film is set in one room with two actors talking through the night. The film was somewhat autobiographical. "I started to think about what I should do in the future as I was tired of acting in TV series and commercial movies. Although I loved some parts of my job, I could not bear some other aspects. Dreams May Come embodies my feelings at that time," she says.
To her fans, Xu is a talented woman - not only a good actress and a director, but also a good writer. China's most-famous blogger "Lao Xu" says writing is her way of expressing herself. "It is just like singing karaoke. It's relaxing to type words, be it 500 or 1,000."
Xu is surprised by the response to her blog, considering that she has not done any TV for six years and can seldom be found under the spotlight. "I have no idea why so many people would be interested in my blog," she says.
So what exactly does Xu write about in her journal online? She writes about her daily routine, her work and her new films, and sometimes about showbiz, besides posting occasional photos of herself which are usually taken from everyday life, rather than glamorous fashion shoots. They bring her up close and personal with her readers. But do they also reveal the real Xu?
"I cannot write my diary everyday and I do have to show consideration to my boyfriends and my family. But what I write is me for sure," she says.
Her online magazine Kai La is also doing well and has reportedly attracted as many as 200 million downloads since its launch, a year ago.
Recently, Xu returned to China after a vacation in California of US, to join in the One Hundred Flowers Film Festival. People saw a confident and beautiful woman on screen.
The change is obvious but Xu insists she is just the same - eating the same food, having the same friends, and as addicted to Beijing as before.
"Acting is just a job for me. Film directing, writing blogs and running the magazine are my interests," she says.
(Source: China Daily 09/12/2008 page18)