Song Zuying stands in front of the poster for her concert at the John F. Kennedy Center for the Performing Arts on October 12.
Nominations for the 49th Annual Grammy Awards were announced by The Recording Academy on December 7.
Among this year's nominees was the celebrated Chinese folk singer, Song Zuying. Her CD "The Diva Goes to the Movies: A Centennial Celebration of Chinese Film Song" received a Grammy nomination for "Best Classical Crossover Album."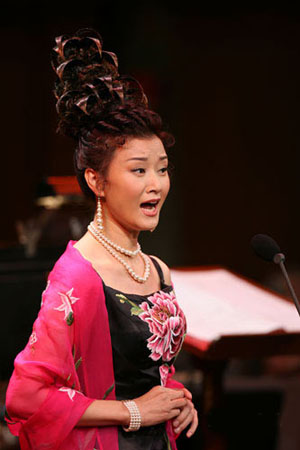 Song Zuying performs during her solo concert at the John F. Kennedy Center for the Performing Arts on October 12. [xinhua]


This reflects Grammy's growing attention to Chinese music and musicians. The 49th Annual Grammy Awards will be held on "Grammy Sunday," February 11, 2007, at Staples Center in Los Angeles.

Just months ago, Song Zuying's solo concert "Beautiful Jasmine Flower" at the John F. Kennedy Center for the Performing Arts on October 12 won critical acclaim. It was the third solo concert Song has held overseas after performing at Vienna Golden Hall on November 23, 2003, and at Sidney Opera House on December 20, 2002. It was also the top-level folk song oriented solo concert held by Chinese singers in recent years.

The 2,400 seats for the show were sold out at the Kennedy Center. During the more than one hour concert, Song sang sixteen traditional Chinese folk songs including "Beautiful Jasmine Flower", "Spice Sister", "Beautiful Life" and "Love for my China". She also sang an English song.

On stage, Song Zuying is charming and graceful. How about off-stage?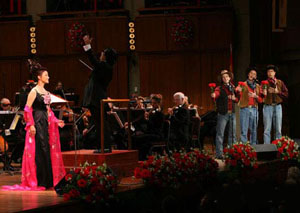 Three handsome American gentlemen (L), with flowers in hands, vocally accompany Song Zuying during her song "Little Running River" at her concert at the John F. Kennedy Center for the Performing Arts on October 12.[xinhua]

How Song Zuying became a singer
Song Zuying was born to a Miao ethnic minority family in Laozhai village, Guzhang County, Hunan Province. The Miao stockade village was picturesque and people there all sang well. Song learned to sing from her mother when she was old enough to speak.
In 1981, when two teachers from Guzhang County came to her middle school to choose students for the county opera, Song Zuying found her opportunity. She passed examinations and became a member of the county opera.
At the end of 1984, Song transferred to Miao Autonomous Prefecture Opera. The next September, she enrolled in the Vocal Music Department at Central University for Nationalities. Under the guidance of Professor Zhou Benqing, Song made much progress in singing. After graduating from the Central University for Nationalities, Song studied under Professor Jin Tielin of China Conservatory of Music and improved her singing skills.
Song Zuying stands in front of the poster for her concert at the John F. Kennedy Center for the Performing Arts on October 12.[Chinaren.com]


At the CCTV (China Central Television) spring festival evening party in 1991, Song Zuying won the applause of audiences in China and abroad by singing "Little basket-on-back". She then transferred to the Song and Dance Ensemble of the Navy's Political Department of the Chinese People's Liberation Army and became a national performer.

Song Zuying and her family


Song Zuying was born in her grandmother's house, and lived with her mother and grandparents. At the age of ten, Song went to live with her father in Laozhai Village. Her father was a smart man. He resigned to work in the fields when China streamlined its government bureaus in 1964.

Song's father could play Erhu and flute, which he made himself. Song often listened her father play these two music instruments.

Unfortunately, due to a lack of money for medical care, Song's father died of TB when Song was 12 year old.

At that difficult time, all her relatives tried to persuade Song's mother to stop Song from going to school. They thought that it did not matter whether girls could read more books or not because girls would marry men and be housewives. However, Song's mother disagreed with them. "I have never gone to school, and I cannot let her live my life." Thus, with her mother's support, Song kept on studying and finally got a master degree.

Song's little brother had whooping cough right after he was born. The local health care service was very poor, and her brother lost his hearing due to drug poisoning. This was a heavy blow to Song's family. Song and her mother often cried for the poor baby boy.

Song deeply understands that her mother has devoted much to the family and hopes she can have a happy old age. She persuades her mother to find a new life partner. In order to make her younger brother happy, Song always takes him with her. When she was in Beijing, she sent him to study at a special school. After she bought a house in Beijing, she brought her family members to live with them.

Help hometown without hesitation

Song has a deep affection for her hometown. She never refuses to perform in her hometown when she is invited. With her good personal relationships, she also asks some of her friends in the entertainment circle to perform in Hunan Province. What is respectable is that Song does not accept any payment for her show in Hunan. If her relatives or friends want to see her show, Song will buy their tickets herself.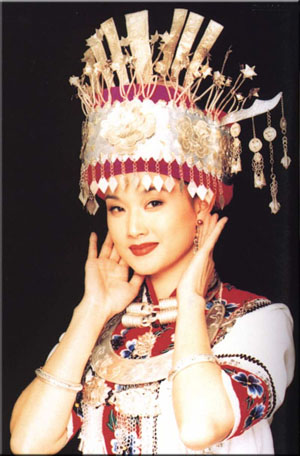 Song Zuying in traditional Miao costume[tu888.cn]


Song is always thinking about how to help Guzhang shake off poverty. Once, the leaders of Guzhang came to Beijing to visit her and brought her some local tea. Drinking the tea, Song suddenly had an idea, "why not sing about the tea from my hometown?" In 1994, Song sang "Tea Song of Guzhang" about a picturesque view of tea leaves and tea-picking girls in Guzhang. The song was heard across the nation and the tea in Guzhang was sold out of Hunan Province and even entered the overseas market.

In order to help children in her hometown, Song has donated money to build a Hope School in Guzhang. She also gave Guzhang 5000 VCDs which recorded her "Tea Song of Guzhang".

The audience is God

Many people say that Song is popular not only because she sings very well but also because she is very beautiful. An overseas magazine once named Song the Most Beautiful Singer in China. Song is very modest. She said, "I think my beauty is due to the make-up."

According to Song, so long as you do the right things and are full of passion for the audience, they will surely like you. When she is surrounded by fans who ask for her autograph, she will not refuse no matter how tired she is. Sometimes, she even spends her spare time replying to her fans' letters or calling them.

Song Zuying is a gentle and refined woman. She is never angry with those passionate fans who always surround her. She said, "No matter how tired I am, I will not angry with my fans. They are the gods of singers. Without them, I am worth nothing."

File:
Date of birth: August 13, 1966
Place of birth: Guzhang County, Hunan Province
Education: Vocal Music Department of Central University for Nationalities, Vocal Music Department of China Conservatory of Music

(Source: people.com.cn, sina.com.cn, Translated by Women of China)