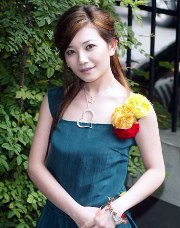 A diva of sweet, soulful Mandarin melodies, Malaysian Chinese singer Jasmine Leung, also known as Liang Jingru, has gradually become a pop queen on the Chinese-speaking circuit.
Jasmine Leung's new release, Silk Road, is another collection of romantic songs composed by a number of heavy-weight songwriters.
This beautiful yet slightly sad track is entitled Pity It's Not You, and taken from Jasmine Leung's latest release Silk Road. It's theme should touch many listeners, as it tells of the eternal pain which people feel after the break-up of a long term relationship. In a quiet voice, Jasmine sings: "You are the eternal tune of love within my soul. We once walked side by side on the road of life, but we lost each other at the crossroads. It's a pity you are not the one who will accompany me through to the end of my days. Still I thank you for letting me know what tender love really is." Still, despite this somewhat weepy tone, the song as a whole displays a strong unbending attitude towards life, with Jasmine's declaration that she will continue in her search for love.
Born in Malaysia, Jasmine Leung went to Taiwan at the age of nineteen in order to develop her career in music. Her first album was released in 1999, yet it was not until a few years later that her career took off with an album entitled Courage.
Jesmine Leung's popularity is founded as much on the content of her songs as on her easy-going melodies. Although her voice is by no means technically fantastic, she does manage to present her lyrics in a unique manner. Thus, in each song, she can reassure you with the most simple words, singing that you can be strong and say farewell to those who left you with a smile, and that you can tolerate others for the sake of your own happiness. Therefore, when people feel ruffled and sad, they can find peace, understanding and courage in her songs, especially in those from her current album, Silk Road.
Silk Road's title track was composed by famous Taiwan pop singer Wang Leehom, known as a one-man studio for his compositional, arrangement and production abilities. On this track, he has used a traditional Chinese musical instrument, the Yang Qin, a kind of dulcimer, to continue his trademark oriental style. Meanwhile, the lyrics were written by the lead singer from Taiwan band May Day. Let's have a listen to this exotic number, which compares the pursuit of love to a long trudge on the silk road from central China to the Mediterranean sea.
The best thing about Jasmine's music and this album is the lyrical content which it conveys. As an example, the track Thin tells people not to ask for too much in love, but rather to be content with 80 percent satisfaction in your love life. In other words, keeping your expectations "thin" ultimately brings greater happiness. The melody of this song is very much in keeping with Jasmine's usual style, as light-hearted words rest upon an easy-flowing melody, with a deeper message bubbling beneath.
As the joint effort of many famous musicians, this album also includes many different styles, which should satisfy various musical appetites. As such a contrast to the last track Thin is One On One, which is a very cool and joyous number, with a particularly fashionable music arrangement. During the refrain, Jasmine expresses the boldness of modern girls, saying: Love is a one on one matter. Any other person is an intruder. If you have a fantasy about me, why not make it more direct. Let's enjoy it together.
(Source: CRIENGLISH.com)