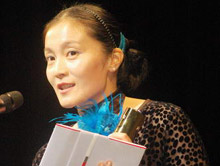 Although film direction in China is still as dominated by men as in the rest of the world, a small number of female directors have managed to attract domestic, if not quite international attention. Among them, Ma Liwen has picked up kudos in recent years for her two low-budget movies, You and Me and The One Who Loved Me Most Has Gone.

Over the last twenty years, while Gong Li, Maggie Cheung and Zhang Ziyi have successfully carried the banner for Chinese actresses, no corresponding breakthrough has been enjoyed by female directors. While actresses may be trusted to bat their eyelids, few investors are willing to entrust their pot of gold to a female filmmaker. In such a climate therefore, perhaps the only path for women to follow is the low budget path, as Ma Liwen's early career appears to attest. Now thirty-four years old, this confident-looking character is famous for tenaciously clinging to her own ideas about film-making. Perhaps as a result, she's only managed to make two movies so far, The One Who Loved Me Most Has Gone and You and Me, both only tying down shoestring budgets, yet both also gaining domestic and international awards.

"So far I have shot only two movies. Neither of them has suffered disgrace at the box office. What's more, both of them have gained positive commentary, so to some extent, I feel that I've been successful."

Ma Liwen's debut 2001 production, The One Who Loved Me Most Has Gone, was adapted from a novel by the famous female writer Zhang Jie. The story centers around successful author He, who, on returning home, finds that her octogenarian mother is suffering from the advanced stages of Alzheimer's. Advised by the doctor to have her mother exercise and driven by the illusion that recovery is still possible, He tries everything she can, mercilessly forcing her mother to do strenuous, unrealistic workouts. Her mother is already very weak, and far more aware than her daughter of her imminent death, but complies with these demands in order to alleviate He's anxiety. Inevitably therefore, He one day discovers her mother's dead body, slumped over the running machine. Throughout this sorry saga, the mutual love between mother and daughter is hidden deeply and never clearly expressed, leaving the audience to sigh and wipe tears on their behalf.

In 2002 at the sixth Chinese Changchun Movie Festival, this movie won Best Chinese Feature Film Award, Best Director, and Best Supporting Actress, along with fifteen other awards from various festivals around the world.

Ma Liwen's second movie, the far more famous You and Me, was largely based on her own experiences. Born in the eastern province of Jiangxi, Ma came to Beijing's Central Academy of Drama in the 1990s, and accordingly rented a small room in a courtyard building. The owner of this complex was an elderly lady, who lived a solitary but tranquil life. At the beginning these two found themselves at constant loggerheads, before gradually becoming interested in each other's lives and finally developing an emotional bond. Indeed, when the old lady died, Ma was overwhelmed with memories and guilty feelings, which she attempted to honor and exorcise through this movie You and Me.

Remaining true to the reality of this background, You and Me is a very simple movie, with one scene-the courtyard, two people-the female student and old lady, and four seasons. There are no lurches or twists in the plot, but rather an exquisite attention to detail, which focuses upon the inner worlds of both young and old. Ma describes this movie as technically quite easy to shoot, with no night scenes, and a willingness to film around the entire year, in order to enjoy the natural changes of seasons.

"I used probably the most thickheaded method to shoot the four seasons. Meanwhile, the story may be one of my own but it also has a universal theme. I aimed at showing the grandeur that arises from the trivial, instead of showing the trivial that arises from grandeur. This thing was the result of my own experiences, yet it's still not so easy to emphasize the emotional changes between two people."

Not long ago, You and Me won Best Director and Best Actress at the Chinese Golden Rooster Film Festival. Before that, it also picked up an award at the 18th Tokyo Film Festival, where it received an impressive 31 out of 35 points from the jury.
In China's current movie market, no matter whether male or female, it's hard for directors to secure financial backing and box office success for an artistic movie. However, for Ma Liwen, just as investment finally came, so did the ticket receipts, even if her works were only minor financial successes.

(Source: CRI March 17, 2006)