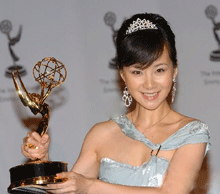 Chinese actress He Lin poses after winning 'Best Performance by an Actress' for her role in Mother at the International Emmy Awards Gala in New York, November 21, 2005. [xinhuanet.com]
On the evening of November 21, 2005, He Lin was honored with Best Actress in the 33rd International Emmy Awards for her outstanding acting in Mother. She is the first Asian actress to have won this special honor. The other three nominees were from Norway, Brazil and Britain.
Mother was adapted from the early 20th century novel of the same name by Chinese writer Rou Shi. It tells about the tragic fate of a mother called A Xiu.
The film also won the Lily Award at the 4th Chinese Television and Film Festival and White Yulan Award at the 10th Shanghai International Television Festival.
As the drama is not widely known among Chinese audiences, even He Lin herself saw the award as a big surprise. "This is unbelievable, especially since I'm the first Chinese to receive this award. The award means so much, and I'll have to work harder."
Since He has been an actress, she has seldom acted in a leading role. In 1997, He Lin's performance in Qian Shou won her the Excellent Actress of Chinese Golden Eagle Award.
Mother's poster [xinhuanet.com]
How did He Lin land the role of A Xiu? How did she move the Emmy judges? Yan Jiangang, the director of Mother, believed it was because of her great job in expressing the inner world of the role.
"In fact, He Lin nearly missed the chance, because she's too pretty," said Yan. At first,the investors were strongly against her playing this role. "They thought she was too young and too fashionable." But Yan insisted on casting her because "she is quick to learn and easy to mold."
Since July 12, Mother-in-law Vs. daughter-in-law has been shown on CCTV-1. He Lin played the female lead, Wu Rui, the daughter-in-law. "I love this role. She is frank and straightforward, like me." She said, "When watching this play, many daughters-in-law will notice similarities between themselves and the lead. Every character is typical in this play, and it is just like rehearsing how to tackle family problems."
Profile:

Name: He Lin
Date of birth: November 14,1976
Place of birth: Shanghai
Height: 164cm
Weight: 48 kg
Blood Type: A
Graduated from: Beijing Film Academy

(Source: xinhuanet.com, sina.com.cn & cctv6.cn)