She was born the daughter of a herdsman on the grasslands of the Nagqu Prefecture, Tibet Autonomous Region. With her natural beauty and clear melodious voice, her performances have enchanted audiences. This is Suolang Wangmu, a Tibetan singer whose star is on the rise. Today, considered as a promising artist, she hopes to introduce the traditional music of the Qinghai-Tibet Plateau to all of China and beyond. From herdsman's daughter to a popular performer on the national stage, Suolang Wangmu's rise to fame seems a predestined fate.
This was the second occasion that Suolang and I had met, and when we reunited at a Beijing café, I could see that the girl I remembered had grown up into steady, fashionable, and self-confident young woman. I first encountered Suolang at the National Young Singers Television Competition hosted by China Central Television Station (CCTV) in 2002. With her unique singing voice and pure, sweet smile, Suolang's performance charmed both judges and audience. She went on to win the Traditional Chinese Vocal Style event and the title of the Most Popular Singer Among the TV Audience. Even today, many people remember her first performance at the competition. And now she has become a famous Tibetan artist.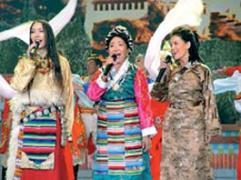 After the awards ceremony of the 2002 competition, Suolang found herself the center of much media attention. At a press conference, the slim, pretty Suolang, with her long braids and large, expressive eyes, was too bashful to answer reporters' questions. The conference staff had to instruct her in what to say. During our second meeting there was none of this earlier shyness. The words poured out of her in a steady flow as she told me of her family, childhood and aspirations.
Suolang comes from a large family of livestock farmers, including her parents and five brothers and sisters. Her name, Suolang Wangmu, meaning "everlasting happiness" in Tibetan, was bestowed on her by a local Living Buddha. Suolang was the family darling and passed most of her childhood simply strolling and singing on the grasslands. At the age of 14, she pestered her brother-in-law, head of an "Ulanmuchi" (Caravan Artists) troupe, to allow her to participate in the troupe's performance. In the end he agreed, and together with other members of the troupe, Suolang rode a Dongfeng truck (large blue truck commonly seen on Chinese roads) from place to place to sing for herdsmen wherever they were to be found. Without any stage-making facilities, they performed open air shows on the grasslands. But with her beautiful face and sweet singing voice, it was not long before Suolang was noticed. After watching one of her performances, the Nagqu Prefectural Song and Dance Troupe immediately recruited her. A year later, she was recommended to perform in a singing competition in Lhasa, capital of the Tibet Autonomous Region and subsequently won first prize. Then, in 2000, she participated in the National Ethnic Singers Competition and won the Gold Prize.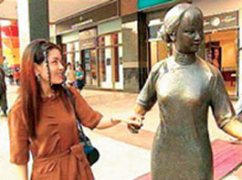 By 2002, already a regional star, Suolang traveled to Beijing to take part in the National Young Singers TV Competition. Reaching the finals, she managed to retain her usual placid and calm state of mind. She gave the performance of her life and beat more than 600 other contestants. When a reporter asked about how she felt during the competition, she answered, "Singing is everything in my life and I didn't feel the least bit nervous."
Today, Suolang is a singer with the Song and Dance Troupe of the General Political Department of the People's Liberation Army, and she works hard producing vocal music, her natural forte. As a native of the grasslands, she has not adapted too well to life in Beijing, particularly in regard to the climate, diet and language. She says she still feels a great nostalgia for her childhood, especially the days with the Ulanmuchi troupe. "Although we rode a truck from one place to another and performed for herdsmen on the grasslands, I felt extremely happy and carefree," she said. "When performing on the stage now, for example, all my dance moves have to be in harmony with the accompanying dancers, which is much more restraining," she explained.
Many people worried that after entering a professional performing group, Suolang would be trained into a singer of the standard Chinese vocal style, the kind appearing very often on the TV gala variety specials. She has in fact managed to retain her unique vocal style, with its natural and distinctive sound. Some people wonder why Suolang speaks in a rather deep and almost husky voice, yet sings in a high and resonant tone. "I don't know. Maybe, it is innate," Suolang simply replies.
Although Beijing is a world away from her hometown on the grasslands, Suolang has chosen the capital city as the place to begin her singing career. "This city provides me more opportunities to study and sing," she says. When given the chance to express her aspirations, Suolang comments, "I hope to publish a special collection of my songs that will become popular everywhere. In Beijing, many people think that my hair style is very fashionable. However, it is exactly the same as when I lived on the grasslands as a child. I plan to treat my singing style just as I keep my hair style-natural."
(Source: China Pictorial February 24, 2006)